Queen and Catherine visit Baker Street Tube station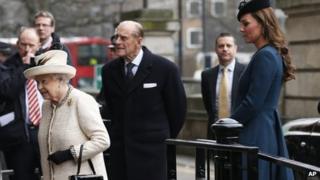 The Queen has visited Baker Street Underground station to celebrate the Tube's 150th anniversary - her first public engagement in more than a week.
The Duke of Edinburgh and Catherine, Duchess of Cambridge joined her.
The duchess was given a badge reading "Baby on board" during her visit, which she placed on her jacket.
The royals saw a restored 1892 carriage at Baker Street, which was part of the first stretch of the network which opened in January 1863.
Sir Peter Hendy, commissioner of Transport for London, London Underground's managing director Mike Brown and its chief operating officer Howard Collins greeted the royal party.
'Great honour'
The Queen, who recently suffered symptoms of gastroenteritis, last visited a Tube station in 2010.
Receiving the badge from Mr Collins, Catherine said: "I'll make sure I wear this at home."
On the Queen's last visit to a Tube station in February 2010, she travelled to Aldgate to meet staff and view a memorial plaque dedicated to the seven people killed there during the 7 July 2005 bombings.
Her first Tube journey was in May 1939 as a 13-year-old princess, accompanied by her sister Princess Margaret and governess, Marion Crawford.
During the trip to Baker Street, the royal party met ticket, maintenance and train staff, including people involved in the restoration of rolling stock.
Devon Wordsworth, a Metropolitan Line driver, said: "After 30 years' service, it's a great honour get to shake hands with the Queen."
The guests were shown the plush red velvet interior of the 1892 carriage, Metropolitan Railway Jubilee Carriage No 353, which is the oldest operational Tube carriage.
'Reconnecting with history'
The carriage, which was used as a garden shed and a tailor's workshop after it went out of service, was restored at Ffestiniog Railway for the 150th anniversary.
Broadcaster Wesley Kerr, the Heritage Lottery Fund's London chairman, said: "I saw the carriage at the (London Transport Museum) depot at Acton and it was completely derelict.
"We just thought it should be reanimated and it's a wonderful way of reconnecting with history."
The Queen, Prince Philip and the duchess also walked through a new S7 train before the Queen unveiled a plaque, naming the train Queen Elizabeth II.
They were all given Oyster cards to mark their visit.
The royal party also met staff from the Railway Children charity, an international organisation which helps homeless youngsters.
The last time the Queen was seen at an official event was an engagement on 11 March when she signed the Commonwealth's new charter.