End in sight for 'pointless' rail announcements?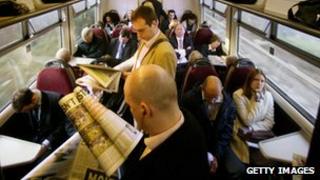 Is the end in sight for annoying, pointless announcements on trains?
Transport Minister Norman Baker is not the first to criticise the often pointless messages travellers are bombarded with on trains.
He said last week: "We don't need to be told we are in a quiet carriage. That is why we went there in the first place.
"I don't know why people are told to read the safety cards. I've never seen a passenger read one.
"Passengers are told they are on a non-smoking train, which seems pointless, as all trains in Britain are non-smoking."
Well, now it looks like the rail industry is taking action.
First Great Western (FGW) announced on Tuesday it is cutting some announcements including one which tells passengers they cannot smoke, the location of standard and first class seating and 'mind the gap' at stations (where there is no gap).
A survey, carried out by FGW showed most people actually blocked out the announcements and ignored them, deeming them irrelevant.
Mind the gap
FGW said: "One of the first to go will be "mind the gap" at every station stop, only to be said when it is appropriate at individual stations where the gap is greater than normal.
"Other announcements to be assigned to the railway siding in the sky include the scheduled arrival time at the final destination and "change here for connecting services to..."
"This will be enhanced by more relevant information on departure times and platform numbers rather than each and every connecting service. The research indicated that this is what customers value the most."
This probably won't be the last culling of the announcements as First Group, which runs FGW, also operates many of the UK's railways.
This should be an easy win for the Department for Transport as no-one will surely mourn the passing of pointless announcements?