Barnet services outsourcing challenged in court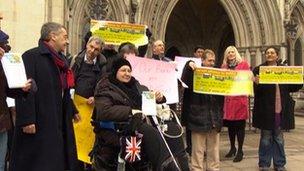 A north London resident has taken her local authority to court over its plans to outsource some of its services.
In her application for judicial review, Maria Nash is claiming Barnet Council failed to consult residents.
Ms Nash, who is a wheelchair user, is also claiming the authority failed to carry out a proper impact assessment under the Equality Act.
Barnet Council said it had to make some "difficult decisions" and outsourcing services will save "£1m a month".
The proposals are part of the Conservative-led council's One Barnet Programme .
The council has awarded a £320m contract to Capita for back office services, including its call centre, payroll, IT and human resources, over 10 years.
This is claimed to save £125m and was to come into effect from April 2013, but has been delayed due to the legal action, the council said.
If it goes ahead, it would affect 15.5% of the council's services.
There are also plans to outsource services including transport, building control and planning, trading standards and licensing and environmental health as part of another £142m contract.
BBC London correspondent Matthew Morris, who is in court, said Ms Nash's lawyers claim that the contracts would lead to a total of 790 post closures.
Our correspondent added that the court was packed with local residents.
Barnet Alliance for Public Services, which is backing Ms Nash's case, has previously warned the council plans to privatise up to 70% of its services.
Ms Nash's lawyer Gerald Shamash said she is challenging the council's proposals on four grounds:
The local authority failed to consult all stakeholders, including residents, voluntary organisations and local businesses;
It has also failed to undertake a public consultation despite promises to do so;
Barnet Council failed in its duty as a public sector body to carry out a proper impact assessment of its plans under the Equality Act 2010 and
The elected representatives at the council have breached their duty of trust to the people of Barnet.
In court, Mr Shamash said there was "nothing that comes close" to a proper consultation and that there were "real concerns" over the impact of the plans, especially on the vulnerable.
Councillor Daniel Thomas, deputy leader and cabinet member for resources and performance, said: "I can only reiterate that governments, both centrally and locally, have to make some difficult decisions and that while it is right these decisions should be open to scrutiny, it is ultimately the taxpayer who bears the financial brunt of these legal challenges."
He said the Capita contract "will save the taxpayer £1m a month and, given the state of public finances, Barnet Council is keen that we start to make these savings as quickly as possible".
Related Internet Links
The BBC is not responsible for the content of external sites.