London riots: Fire-hit Clapham fancy dress shop reopens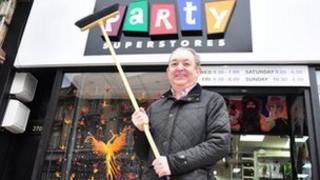 A fancy dress shop in south London which was looted and set on fire during the riots in 2011 has reopened.
Party Superstores on Lavender Hill, Battersea, was targeted by looters in August who broke in and stole masks, which some used to conceal their identity during rioting.
The building was then set alight, gutting the shop and the flats above.
Up to £500,000 worth of stock was destroyed and it cost £150,000 to refit the shop for trading.
'Open for business'
Duncan Mundell, managing director, said most of their stock and the building was insured but the fixtures and the interiors were not.
He said: "For us, it's important to be back in the same premises.
"We did consider moving, but this location is special to us - plus it shows those that did this that they haven't won; we're back and we're open for business.
"Conditions on the high street are tough enough as it is without something like this."
About a month after the shop was gutted the business moved to a small temporary location a few doors down the street and began trading.
They were also offered a space in the nearby Debenhams store, which also had its windows smashed and looted during the disorder.
Clapham area was a focal point for violence on 8 August.
Trouble started in Tottenham, north London, on 6 August following a peaceful protest over the fatal police shooting of Mark Duggan.