Musicians audition for Tube busking licences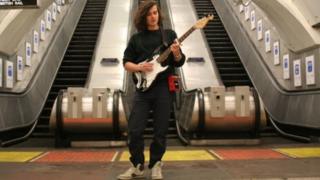 The sound of No Woman, No Cry emanates from a disused platform at Charing Cross Underground station as weekend engineering works are announced and a man plays scales on a bamboo flute.
It's the last audition day for performers hoping to gain the busking licences for the Tube which were first made available 10 years ago.
Over three weeks, 250 people have played for a panel of three - sometimes including record company professionals - hoping to join the 350 performers who try to entertain commuters. There are up to 100 licences available.
'Never stop playing'
Glenn Reffin, the Tube's answer to Simon Cowell, confides he's dreading hearing Wonderwall or the Streets of London many more times.
Each performer is asked by the panel what they consider the biggest challenges are when performing on the Underground. Being heard over the public address system ranks highly.
Danny Leigh, 23, from Southfields, south-west London, said he was put off during his audition as he sang Sting's Englishman in New York. "You should never stop playing. That's the cardinal rule of performing, no matter how many mistakes you make."
John Smith, 56, from Sheffield, a part-time lecturer at Kingston University, likes to play his panpipes on the top of mountains, but would love the chance to play underground.
If he becomes a busker he will be happy gaining enough donations for a sandwich and an orange juice, but said the idea of someone wanting him to provide the score for a film was one of the "random infinite possibilities" he finds tantalising.
Meanwhile, 19-year-old Ben Hudson, who is studying engineering at Brunel University, has a simple motivation for playing his guitar and ukulele.
"There are too many grumpy people on the Underground. I'm here to make them happy."
Mick Ward started busking on the Underground eight years ago.
He says the amount of money people can make is now closely guarded after one performer told the media and subsequent "drops" or donations, "bombed".
'Biggest music venue'
"We can make money," he says. "It's a living. Of course on some days you can make nothing."
And the song that makes the most money? "I Don't Want to Talk About It. That was big yesterday."
Mr Reffin says the majority of people auditioning are "lads with their guitars" but the musical instruments can sometimes be unusual, such as a shamisen, a Japanese three-stringed guitar, which turned up on the last day.
A trial in 2003 provided 12 pitches and about 50 licences. Today, there are 39 pitches at 26 stations.
"The audience is huge - 4.2m passengers a day. There's up to 200,000 hours of live music a year which makes us the biggest music venue in the UK," said Mr Reffin.
He's proud that in London Underground's 150th year, the busking scheme is hitting its 10-year milestone.
"It's now a firm part of the culture that's developed and will go on for the next 150 years."