Haringey's social services child inquiry ruled unlawful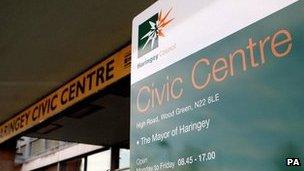 The parents of a girl have won damages over an "unlawful" decision by social services to investigate if their child was being ill-treated.
A High Court judge ruled there was no basis on which the north London's Haringey Council should have started the inquiry in 2011.
The probe included approaching the child's GP and school. The parents were awarded £2,000 in compensation.
The council apologised to the family saying it would learn from the ruling.
Judge Anthony Thornton, sitting at London's High Court, said: "There was no evidential, reasonable basis upon which the inquiry could have been launched.
"The defendant [Haringey] acted unlawfully in not seeking consent before approaching their child's GP and school and without seeking information from them."
The judge quashed the decision to commence the investigation in May 2011.
The compensation was for the infringement of their Article 8 rights to "private and family life" under the European Convention on Human Rights.
The child's mother, who cannot be named for legal reasons, later described what had happened to her family as "a nightmare".
She said council social workers had acted "outrageously" and added: "They thought they were completely unaccountable - but today they have been held to account by the court.
"This is a landmark case for parents. One wonders how many families are out there suffering."
A Haringey Council spokesman said: "Our handing of this case fell below the standards that we would expect, and we apologise to the family concerned.
"We are committed to learning from the findings of the court as we continue to make improvements to our child protection and safeguarding systems."
Related Internet Links
The BBC is not responsible for the content of external sites.