Baby P social workers lose court appeal against sacking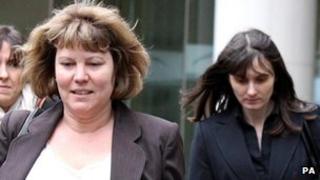 Two of Baby P's social workers were not sacked unfairly by Haringey Council, the Court of Appeal has ruled.
Maria Ward and Gillie Christou were 17-month-old Peter Connelly's social workers when he died from horrific abuse at his London home in 2007.
An employment tribunal ruling in 2010 agreed the council, which said they had made a serious error of judgement.
The appeal court has now backed that ruling, stating the council acted reasonably in dismissing the women.
The tribunal's ruling, which was backed by the court, indicated the pair had been responsible for serious failings in Baby P's care.
Ms Ward, Peter's nominated social worker from February 2007 until his death in August 2007, and Mrs Christou, her team manager, unsuccessfully took their case to the Employment Appeal Tribunal.
They then went to the Court of Appeal where Lord Justice Laws, Lord Justice Elias and Lord Justice McCombe rejected their claim that they were unjustly dismissed.
'Labelled murderer'
Peter had suffered more than 50 injuries despite being on an at-risk register and receiving 60 visits from social workers, police and health professionals over eight months.
The social workers were sacked after an investigation, which found there was a period in mid-2007 when they did not know where the child was.
The pair's legal teams had claimed they suffered "double jeopardy" because they faced two Haringey misconduct panels looking at the same allegations.
The first simplified disciplinary procedure concluded they only needed to receive written warnings, but more formal proceedings - after the criminal trial of those responsible for Peter's death - resulted in summary dismissal for gross misconduct.
They argued the second process should not have taken place because essentially the same charges were advanced with no fresh evidence, that it was an abuse of process, and that there was a failure to give any legitimate reason why it was fair to reopen the matter.
The Court of Appeal heard Ms Ward had to move house after people called her a "murderer" and had been advised to disguise herself.
Mrs Christou was subjected to similar, "albeit less severe" harassment, the judges heard.
Baby P's mother Tracey Connelly, her boyfriend Steven Barker and Barker's brother Jason Owen, were jailed in 2009 for causing or allowing the toddler's death.