Sydenham School tries to identify sculpted panel artist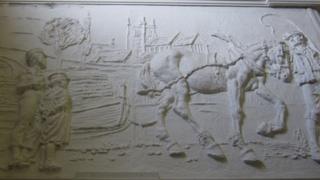 A south-east London school is appealing for help to identify the artist behind decorated wall panels in its building.
Sydenham School believes the sculpted panels date back to World War I when the school was established in the building in 1917.
The school is currently undergoing a £23m refit over three years and head teacher Carolyn Unsted said she wanted to acknowledge the "treasures" in it.
The artworks are on three walls of a building which will house the library.
One of the panels is more than 50ft (15m) long and features scenes including horses being domesticated, scenes from the English countryside, and coaches and steam trains.
Ms Unsted said: "At this time of significant redesign, it is appropriate we acknowledge these treasures dating from another pivotal moment in the school's history - another time of renewal and optimism."
Ken Devine, a member of the Friends of Sydenham School, said: "The raised panels date from early in the life of the red brick buildings that made up Sydenham County Grammar School put up by the London County Council in 1917.
"All searches through the records have failed to unearth information about the artworks now in our Lower School hall."
Dr Jeremy Howard, senior lecturer in the Art History Department at the University of St Andrews, who was part of a study into artworks in schools, saw images of Sydenham School's panels and said they were "extremely accomplished plaster reliefs".
"Altogether they express a vivacity and dynamism that is in keeping with the spirit of the art nouveau movement," he added.