London 2012: 'Urban fete' to mark Olympics anniversary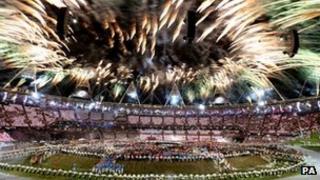 The anniversary of London 2012's opening ceremony will be marked with an "urban fete" at the Olympic Park.
The two-day event, called "East", will be held in July to celebrate the re-opening of the park's northern section.
Curated by the Barbican and Create London, it will feature live music, food and culture inspired by the area.
Create London's Hadrian Garrard said it would be a "counterpart to the big, flashy, flag-waving expensive ticket offers that we've seen previously".
He added: "All the programming we're doing is focused around getting people to explore the space in a different way. It's not big stages... it's using the park as a park."
'Breadth of entertainment'
Dennis Hone, chief executive of the London Legacy Development Corporation, said: "We are delighted to be working with the Barbican and Create London to bring two days of theatre, magic and music to Queen Elizabeth Olympic Park.
"Alongside our full summer events programme and the London Anniversary Games, this event shows the breadth of entertainment that will be on offer in the park when we fully open in spring 2014."
The Barbican also announced separate events taking place in other east London venues as part of its future programming, including an installation in Dalston which will give visitors the sense that they are climbing up a Victorian terraced house.
Off-site children's theatre will include Bank On It, a topical production about economics, while Super Furry Animals singer Gruff Rhys has co-created a theatre show called Praxis Makes Perfect.
The East event will take place on 27 and 28 July