Nicola Edgington: 'Checks would not have stopped murder'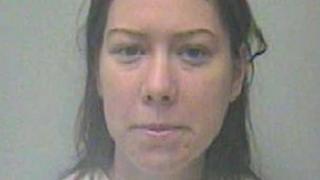 Background checks on a psychotic killer by police would not have stopped her killing again, the Met Police has said.
The force was criticised after Nicola Edgington, 32, was jailed for killing a woman in a London street, six years after she killed her own mother.
Although officers saw her on the day of the murder in 2011, the Independent Police Complaints Commission (IPCC) said a check was not made.
Edgington will serve at least 37 years, an Old Bailey judge said, on Tuesday.
The judge also ordered her to serve a minimum sentence of 20 years, which will run concurrently, for the attempted murder of Kerry Clark, 22.
Edgington had tried to stab Ms Clark shortly before attacking law firm accounts clerk Sally Hodkin, 58, in Bexleyheath, with a knife stolen from a butcher.
In the hours before the murder, the killer called emergency services four times asking for help, saying she was hearing voices again and that she was going to kill somebody.
She was taken to two different hospitals - once by police officers - although she was able to walk out, the Old Bailey heard.
'Acted on facts'
A Police National Computer check (PNC) would have revealed Edgington had a previous conviction for manslaughter, the IPCC said.
Commissioner Sarah Green it was "of great concern" that no check was carried out.
"Without this PNC check, both the police and staff at Queen Elizabeth Hospital, Woolwich, were without crucial information which may have influenced their future decisions, increased the urgency of the situation and could have escalated the medical attention she was given," she said.
Neil Basu, area commander for south-east London, said that with "the benefit of hindsight", the information could have been of assistance to officers.
"However, as the IPCC investigation concluded, whilst Edgington was vulnerable, she was compliant and herself seeking medical assistance," he said.
"The officers acted on the facts in front of them, which they do on a regular basis every day.
"A PNC check alone would not have prevented the actions that Edgington subsequently took."
He said the IPCC report did not identify any police officer or staff who had breached the code of conduct or Met Police policies.
Cdr Basu added that when officers took Edgington to the Queen Elizabeth Hospital in Woolwich, they were told that hospital security "had the matter in hand and that there was no need for police attendance".
Mrs Hodkin's family said it would be considering further action as questions remained over the authorities' actions.
Edgington killed her mother at her home in Forest Row, East Sussex, in 2005.
On that occasion, Edgington pleaded guilty to manslaughter due to diminished responsibility, a plea accepted by the prosecution.
Then she was diagnosed with schizophrenia with emotionally unstable personality traits and was treated as an inpatient in a medium secure psychiatric facility by the Oxleas NHS Foundation Trust.
She was conditionally discharged in September 2009 and moved into a flat in Greenwich where she was being monitored by a consultant psychiatrist, a social supervisor and a community psychiatric nurse.