Heritage award to mark Queen's first gig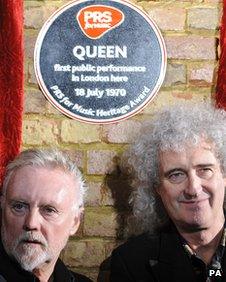 Rock band Queen have been honoured with a music heritage award at the venue where they performed their first concert in 1970.
Brian May and Roger Taylor both unveiled a plaque at Imperial College.
Drummer Taylor said the college represented the "germination" of the band.
Queen have sold 300 million records including 16 number one albums and 18 number one singles.
PRS for Music created the Heritage Award scheme in 2009, to recognise important live music venues where successful artists performed.
The pair said it was wonderful to return to the college where they spent their student days.
Guitarist May said: "It's very nostalgic. It hasn't been that long for me because I came back here to finish off my PhD in 2007, so it's a familiar place. It was such a long time ago."
Taylor said: "We've been very lucky. We've had a lot of recognition and stuff like that but it's very nice because it does hold all kinds of memories for us.
"I've just discovered my 1970 diary it's quite revelatory! A lot of our activity revolved around this college."
May said he was a member of the Entertainment Committee when he was a student and booked some big music acts.
"A thousand people bought tickets to see Jimi Hendrix and a couple of years afterwards we played the same hall which was a big thrill for us. That's what we're commemorating here," he said.
Queen's lead singer and songwriter Freddie Mercury died in 1991.
Mike Grose played bass with the band for a few months, including for their debut show on 18 July 1970.
However, the famous line-up of the group was not complete until February 1971, when John Deacon took over bass-playing duties.
Related Internet Links
The BBC is not responsible for the content of external sites.