Part of Regent Street to stay closed after water leak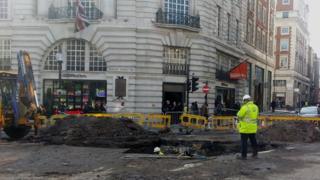 Part of one of London's busiest shopping streets is expected to stay closed for most of the week after a large water main burst.
Regent Street was closed between Conduit Street and Piccadilly Circus at lunchtime on Saturday.
Fifteen shops were blocked off by a cordon set up by firefighters, following the rupture near Vigo Street.
Thames Water says the broken section of pipe must be replaced before the road can be resurfaced.
The water company has apologised for the disruption.
A spokesman for New West End Company, which represents businesses in Regent Street, said some shops were able to re-open later on Saturday after pavements were cleared.
In January last year, a section of nearby Oxford Street had to be closed when a burst main flooded several shops resulting in damage of an estimated £1m.