High Court hears 'ex-gay' ad ban 'a political issue'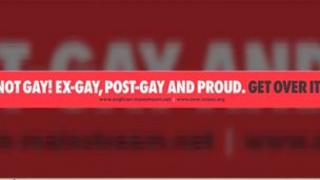 A London bus advert claiming people can alter their sexuality was pulled as it was a "trigger issue" ahead of the mayoral election, a court heard.
The advert was bought by Christian group Core Issues Trust, which advocates therapy for gay Christians.
Transport for London (TfL) pulled the campaign, claiming it breached its advertising policy because it could have caused widespread offence.
A judicial review of TfL's decision is being heard at the High Court.
'Closely fought race'
The advert, also paid for by Christian group Anglican Mainstream, was due to appear on 24 London buses as a riposte to one by gay rights organisation Stonewall, which ran last April reading: "Some people are gay. Get over it!"
The Core Issues Trust advert was due to read: "Not Gay! Ex-Gay, Post-Gay and Proud. Get over it!".
Paul Diamond, counsel for Core Issues Trust, said the use of the London transport system for one point of view the government approved the British public should hear was "frightening" and "unlawful".
He argued Core Issues Trust had as much right as Stonewall to have its viewpoint aired under article 10 of the European Convention of Human Rights for freedom of expression.
Mr Diamond claimed the decision to not run the advert after it had been approved by the Committee for Advertising Practice was political because it was close to the London Mayoral election.
He said: "It was a trigger issue and it was a very close fought race."
He likened TfL to the Russian government, giving only one side the right to advocate its cause.
He said that although an article on the Guardian's website reporting the advert had been cancelled garnered 800 comments, TfL received only 37 complaints.
Dr Davidson, co-director of the Core Issues Trust, has asked Mrs Justice Lang to rule the ban was unlawful and "a deep threat" to democratic freedoms.
Although Boris Johnson publicly endorsed the removal of the advert at the time, TfL has said it was a decision taken by the transport authority, not the mayor.
A TfL spokesman said: "The advertisement breached TfL's advertising policy as, in our view, it contained a publicly controversial message and was likely to cause widespread offence to members of the public.
"This view was borne out by the high number of complaints we received about the ad and the large number of negative comments on social media and newspaper websites."
Nigel Pleming QC representing TfL disputed Dr Davidson's right to come before the court as a victim because he was not identified on the bus advert.
Mrs Justice Lang ruled the application could be made on behalf of the Core Issues Trust instead.
The hearing continues.