Walk of Fame honours world's music greats on Camden street
By Andy Dangerfield
BBC News, London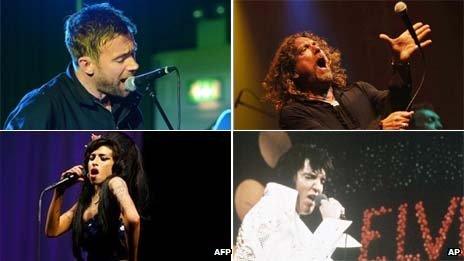 Blur, The Who and Elvis Presley are front-runners on a list of musicians to be honoured with Walk of Fame discs along a route in north London.
Camden Town is to be officially twinned with Hollywood to create its very own Music Walk of Fame.
The first 30 discs will be laid down this summer, organisers said.
It will celebrate the world's greatest musicians, with further discs and an Amy Winehouse statue to be unveiled in September - to mark her 30th birthday.
Front runners likely to appear on the first discs are an eclectic collection of artists including hip-hop DJ pioneer Grandmaster Flash, jazz poet Gil Scott-Heron, R&B group Soul II Soul, and Camden's very own Madness.
Rock veterans Led Zeppelin and legendary crooner Frank Sinatra are also likely to appear on the list, organisers said.
Concerts and special events will be held after all unveilings with tribute gigs for artists who have passed away.
Music promoter Lee Bennett said he would even "like to get bands who have split up back together again" for one-off concerts, when they receive a plaque.
Liam and Noel watch this space.
Those honoured will be divided into five groups: innovative artists, influential artists, icons, unsung heroes and industry types like managers and producers.
A committee of global industry figures and local community members are working on shortlist of nominations for the first 30 plaques.
The list will go to a decisive public vote on the Music Walk of Fame website in May.
"We hope this will be the highest accolade in music," said Mr Bennett.
"This is an international brand not specific to Camden, but it is in Camden as we truly see it as the world's rock and roll capital."
It was Mr Bennett's son Adam who came up with the idea for a Music Walk of Fame, when he was just 10 years old.
"We were walking through Hollywood and Adam asked 'why don't we have this in the UK?'" Mr Bennett said.
"I thought what is the UK's most exciting big export? It's music. We should host the Music Walk of Fame," he said.
Since then, Mr Bennett has spent a lot of time in Los Angeles negotiating terms with Hollywood Walk of Fame.
Six years on and The Hollywood Chamber of Commerce has given him global rights, with some post-unveiling events to be held in collaboration with Tinsel Town.
Its president Leron Gubler said: "We wish the Camden Walk of Fame the best."
Walk of Fame organiser Mat Morrisroe agreed Camden is the right place for the project.
"London is the global capital of music and Camden is the music hub within that," he said.
"We're celebrating this in the middle of a living, breathing music community."
The scheme has been backed by Camden council's deputy mayor Jonathan Simpson who said: "With over 60 live music venues, no other part of the world compares in terms of music diversity.
"It will inspire and directly support those who want to go into music," he added.
Some of the money made from the scheme will be invested in a music academy project "to take artists and nurture them into world credibility", Mr Bennett said.
Each disc will cost around £500 to make and be set in one-meter slabs of concrete, anchored into the ground with steel rods to prevent thefts.
The first phase will run 0.4 miles (0.64km) from Jamestown Road to the famous Roundhouse venue which has hosted gigs by the likes of The Clash, Jimi Hendrix and The Rolling Stones.
But it is hoped the trail will eventually run almost a mile from Mornington Crescent to Chalk Farm.
"Anyone with a Brits or Grammy lifetime achievement will get a disc," said Mr Bennett.
There are plans to build a 3D hologram museum to allow visitors to perform onstage with their favourite stars and to turn Camden's streets into an augmented reality museum.
"We'll use latest technologies to bring the Music Walk of Fame to life on the streets of Camden, so music lovers can find out more about each stone's recipient, watch video and music clips and find out more about the local area," said Mr Morrisroe
In the shorter term, one artist certain to receive a bronze disc is Amy Winehouse.
A disc will be laid in September to coincide with the unveiling of her statue on the terrace of the Roundhouse on what would have been her 30th birthday.
Her father Mitch said: "I remember her talking about Hollywood and she would have definitely approved.
"She loved Camden and I think she would have been delighted to receive a plaque," he said.
Regarding the statue, he said: "I think she would have been over the moon.
"Long after you and I are gone, Amy will be remembered in a memorial on the streets."
Related Internet Links
The BBC is not responsible for the content of external sites.