The Queen visits new Royal London Hospital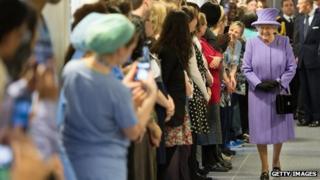 The Queen has met a 7 July survivor, as she officially opened the revamped Royal London Hospital in east London.
Dance teacher Bruce Lait previously met the Queen at the hospital the day after the 2005 bombings in London.
The former professional dancer, 39, of Suffolk, was treated there after the Aldgate Tube station blast.
The Queen and the Duke of Edinburgh visited the Whitechapel hospital which underwent a refurbishment to include a new cancer and cardiac centre.
The monarch last visited the hospital in 2005 after suicide bombers targeted London's Tube and bus network.
Mr Lait, of Ipswich, and his dance partner, Crystal Yelland, were invited by Buckingham Palace to attend the event.
The dance teacher, who was left partially deaf and suffered burns to the face in the bombing, said: "I said that I looked a bit different to the last time she saw me.
"She said, 'Yes, I remember. You look a lot better now.'"
Recalling his first meeting, he said the Queen had "seemed genuinely concerned".
The Queen and the duke took a tour of the new London Children's Hospital, which treats 40,000 patients a year and is based at the Royal London Hospital.
They also visited the Renal Centre and officially opened the National Centre for Bowel Research and Surgical Innovation.
The centre, which opened last year, includes laboratories and a video link from the operating theatre to a training room to enable surgeons to watch new procedures being carried out.