London Fire Authority agrees to allow cuts consultation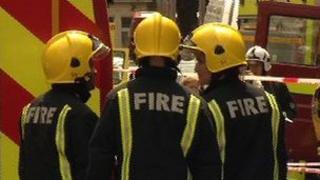 The London Fire Authority has decided not to challenge Mayor Boris Johnson's order to hold a public consultation on proposed cuts to London Fire Brigade.
Shutting 12 fire stations, cut 520 jobs and axe 18 fire engines to save £45m, by 2015, are proposed.
The authority earlier rejected the mayor's order, but risked legal action if it turned it down again.
Members have also agreed the 2013-14 budget should not include cuts to frontline services.
It also wants to change the format of the consultation to include two-hour public meetings in every borough during the 12-week consultation process.
'Reckless cuts'
Mr Johnson, who has ultimate power over the authority, said: "I'm glad that the Fire Authority has finally accepted the need to give Londoners the chance to consult on the Fire and Safety Plan, something I've been urging them to do for weeks.
"Their tactics proved pointless and an unnecessary waste of time."
He added that the consultation must now go ahead "free from political interference and obfuscation".
The Fire Brigades' Union (FBU) urged Londoners to save the service from "reckless cuts" by taking part in the consultation.
Labour party members in the authority's urgency committee moved the motion, which was backed by the Greens and Liberal Democrats London members.
'Serious danger'
In order to make £45m savings, the LFB needs to save £15m in 2013-14 and another £30m by 2015, the fire authority has said.
Labour London Assembly Fire Spokesperson, Navin Shah, said: "Today we have pushed back Boris's frontline fire cuts.
"This means there is now time to consult with people across our city and hear what they think about Boris Johnson's plans to cut 12 fire stations, 18 fire engines and 520 firefighters.
"His plans are reckless and will jeopardise the long-term safety and security of Londoners."
Regional secretary for the FBU in London, Paul Embery, said: "The starting gun has been fired, and we want Londoners to join with us in defending their fire service.
"These cuts are reckless and wrong. They would mean nearly five million Londoners across twenty boroughs waiting longer for a fire engine, and that will place people in serious danger.
"These cuts represent the biggest threat to the ability of the London Fire Brigade to function since the days of the Blitz."
Darren Johnson, Green London Assembly Member also urged Londoners to "overwhelmingly reject the planned closures".