New London river stops earmarked in 2020 push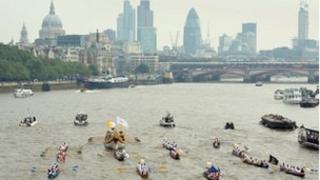 The River Thames's public transport route could have an extra 11 riverbus stops by 2020.
Savoy pier, already used by musicians to travel from the Savoy Hotel in central London to the 02 music venue in North Greenwich, is one of 11 stops identified for public use in future.
Mayor of London Boris Johnson said £10m will be spent on increasing passenger journeys to 12m a year by 2020.
The London Assembly's transport chairwoman called the plan "modest".
'High quality travel'
Mr Johnson outlined his aims in the River Action Plan released by Transport for London (TfL) on Monday.
Planning permission has been agreed on three new piers as part of housing developments: Plantation Wharf and Battersea Power Station in Battersea, south-west London, and Enderby Wharf in Greenwich, south-east London.
Savoy, Wapping, Convoys Wharf, Wood Wharf, North Greenwich West, Vanesta Wharf, Gallions Reach and Barking have also been identified as future stopping points.
Some such as Savoy and Wapping already have piers in place which will need to be modified, using part of the £10m allocated.
Others will require new piers, the costs of which will most likely be met by developers, said TfL.
It is not yet known whether the stops will be serviced by either river buses or tour boats or both.
Last year, the river played a big part in the Queen's Diamond Jubilee celebrations and transport to Olympic venues.
London Mayor Boris Johnson said he was determined to "capitalise" on these achievements.
Improvements outlined for the river include:
Providing river bus arrivals information at each pier
New contactless debit and credit card 'wave and pay' ticketing on river services
New cycle parking and cycle hire facilities by the river
Improved branding and information
Additional berthing and passenger capacity at Westminster, Embankment and Bankside piers by the end of 2015.
The current problems listed include the lack of public awareness of river services, the cost of travel, gaps in the pier network and a lack of integration with other parts of the network.
Thames Clippers runs the majority of river buses.
An adult single ticket between Woolwich and North Greenwich costs £3.60, for example.
'Modest changes'
The Queen Mary, a floating bar, was removed from Savoy pier on Victoria Embankment in 2009.
In its place Woods' Silverlight Fleet has permission to build a covered pier and pontoon for its three privately chartered river yachts.
Under plans, the pier could be used for public transport too.
Kate Woods, from the firm, said increased ferry stops were a boost for London.
At the moment there are about 7m passenger journeys on the Thames each year according to TfL.
But the Liberal Democrat chairwoman of the London Assembly's transport committee, Caroline Pidgeon, criticised the pace of change.
Back in 2010 Boris Johnson promised to increase trips on riverboats to 12 million a year.
She said confirming "modest changes" was "no evidence that the mayor is really committed to transforming river services".
She criticised the fact that Westminster pier was owned by TfL yet only used by tourist boats and not commuter vessels.
She also said the Oyster pay as you go system should be better integrated.