London Metropolitan University suspends researcher with car bomb conviction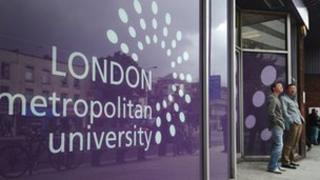 A university researcher has been suspended after it emerged he has a conviction over a car bombing at the Israeli Embassy in London.
Jawad Botmeh of London Metropolitan University and a woman were found guilty in 1996 of conspiracy to cause explosions in the UK.
The Unison union said Botmeh - who got a 20-year jail term - declared his conviction when he applied for the job.
He has worked at the Working Lives Research Institute for five years.
The union said Botmeh was suspended on 7 February, shortly after he was elected as a staff governor.
Botmeh, who was released from prison in 2008, was found guilty of involvement in two car bombs set off in July 1994, one of which went off outside the embassy in Kensington Palace Gardens. Nobody was killed.
'Broken no rules'
He and the woman were convicted on the basis they were part of a UK-based terrorist cell which planned to sabotage the Middle East peace process.
Botmeh lost an appeal against his conviction in 2001, although he gained support from Gareth Peirce, solicitor for the wrongly jailed Birmingham Six, who claimed he had been the victim of a miscarriage of justice.
Unison said two other employees had also been suspended along with Botmeh, including the head of London Met's Working Lives Research Institute, Steve Jefferys, who had employed Botmeh, and a research administrator, Max Watson.
Professor Jefferys had put Botmeh forward to be interviewed five years ago as a part-time casual administrative worker on a temporary contract, despite his criminal record, the union said.
A spokesman for the university Unison branch said: "Steve, Jawad and Max have broken no university rules. They have all been entirely open and honest.
"Professor Jefferys had the authority to make casual appointments.
"Jawad had twice informed the university in writing of his earlier prison sentence and conviction and this evidence is on their files."
A London Met spokesman said: "London Metropolitan University has a duty of care to all its staff, students and partners.
"It is undertaking investigations and has nothing further to add at this time."