Tottenham MP wants security review in face of extremism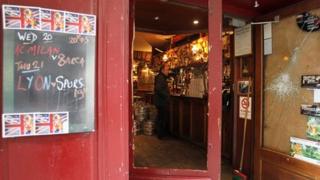 For the second time this season Tottenham Hotspur fans have been attacked abroad in what appears to be a racially-motivated incident.
Three Spurs supporters received minor injuries in a bar in the French city of Lyon on the eve of their side's Europa League tie.
In November, one fan was seriously injured and several were hurt in a clash ahead of a Lazio game in Rome.
Questions are now being asked about the security around the north London club, which has a historic Jewish association.
'Deeply worrying'
Up to 50 masked people attacked the Smoking Dog Pub at about 22:00 CET on Wednesday, smashing windows and throwing objects. Fans were hurt by flying glass.
Eyewitnesses said the attackers entered the pub doing Nazi salutes.
David Lammy, Labour MP for Tottenham, has now called for a careful review of security around Spurs supporters travelling abroad for games.
He said: "I think it is very alarming that in the space of a few months fans travelling abroad have been attacked and set upon in this way.
"The suggestions that neo-Nazi salutes and phraseology were used is deeply worrying.
"I think Spurs fans will be feeling very vulnerable now."
He said he had deep concerns about growing right-wing extremism in Europe.
He added: "We need to be sure that clubs like Spurs which are inclusive are not now subjected to attacks in this way."
He said that although the assault in Rome last year in which one person was seriously injured was of a more "savage" nature, he was nevertheless "deeply alarmed".
Chris Hobbs, an ex-Met police officer who was involved in policing football before he retired in 2011, believes there should be better advice from the Foreign Office and football clubs for fans travelling abroad.
He said: "I heard fans say they didn't think they would have a problem in Lyon but it wouldn't take a lot of research to see there is a problem there and they've walked straight into it."
He referred to internet video footage of clashes between Lyon fans and supporters of Ajax Amsterdam - another club with Jewish links - from November 2011.
There were 614 anti-Semitic acts documented in France last year compared with 389 in 2011 - a 58% increase - according to a report released on Tuesday by the security unit of France's Jewish communities.
"2012 has been a year of unprecedented violence against Jews in France," said the report by Service de Protection de la Communauté.
'Race an excuse'
Dave Eales, landlord of the Smoking Dog, said he had anticipated trouble might occur and had told the Lyon police as much earlier this week.
He said: "The most disappointing thing is that I spoke to the police a couple of days ago about the potential for trouble because of what people associate Tottenham being."
Spurs, like other clubs, carries out safety reconnaissance trips ahead of foreign away games and the club provides information on its website about each European destination being visited by fans.
Clubs usually travel with "spotters", football intelligence officers, from their local police force.
Bernie Kingsley, a member of the Tottenham Supporters Club, said the club has a long association with the Jewish community because of Jewish owners and its proximity to Stamford Hill which has a big Jewish population.
He said there was a danger in the media labelling the violence as racially-motivated.
He said: "People use racial differences as an excuse for something which is just violence."
Mr Hobbs agreed: "I don't think the fact that they have Jewish connections makes much difference. If Manchester United or Liverpool went to Lyon they would be at the same risk.
"It's just a stick to beat the Spurs supporters with."
The Foreign Office said it works with a number of clubs including Spurs to help sports travellers going en masse to a country they may not have visited before.
The club has said arrests were made within an hour of the attack and officials and stewards will be in the city throughout the day on Thursday, along with match-day French police.