Ealing Green store destroyed in riots finally reopens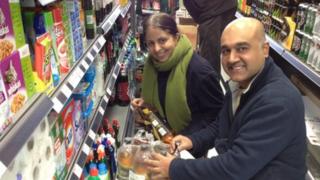 A couple's 19-month nightmare comes to an end later when their corner shop that was destroyed in London's riots finally reopens.
Amrit and Ravi Khurmy wept as they watched their convenience store on the High Street in Ealing, west London, go up in flames in the summer of 2011.
They had ploughed all their life savings into their dream business.
But since then they say they have had endless battles with insurance firms and a fight for compensation.
Prime Minister David Cameron has even spoken about their plight in Parliament.
Ravi Khurmy said: "It's one of those things that people don't think will happen to them.
'Too dangerous'
"It does only happen to a rare few, thank God. It will always stay with us that this did happen and the nightmare that we went through for 16 or 17 months."
Their store, Ealing Green Local Supermarket, was looted by rioters before they set it alight.
The couple raced the short distance from their home in neighbouring Hounslow but were forced to watch their business burn from a distance because of the fear of being attacked.
"I couldn't believe what was happening. But we couldn't do anything about it because it was too dangerous. I had to hold Ravi back," said Mrs Khurmy.
The damage to their business was so severe it was months before they were allowed back into the charred building.
The fire was so intense that the floor collapsed and the ceiling melted, while the flats above the shop were destroyed.
Once they had got over the shock of what had happened they suffered another blow when they were told the damage would not be covered by their insurance.
Their debts soon started to mount and in desperation they had to turn to their local community and charities for help.
"We were very surprised how much charity there is out there and what sort of help there is in the business community," said Mr Khurmy.
"Our local council, Ealing Council, also helped us at the beginning."
Despite their tireless efforts to get their shop repaired, it was only after Mr Cameron mentioned their plight in Parliament that things started to happen.
"After we were mentioned in Question Time [in Parliament] things did move quickly. Before that it was a struggle," said Mrs Khurmy.
'So many setbacks'
Now the couple are ready to put their nightmare behind them and start again.
"It's been an emotional struggle - very difficult.
"But we're putting that behind us now and looking forward to it, looking forward to starting a new chapter," said Mr Khurmy.
"Finally, it's coming along. Ravi and I and our children are very excited," said Mrs Khurmy.
But the business will not be exactly same as before. They have had to split the floor space in two and give up half of it because they did not have the money to pay for all of it to be repaired.
It was not something they wanted to do but they had no choice, they said.
"We just want to get back to normal, how we were before 8 August 2011."
"We just want to get the normality back into our lives. We've been through so much," added Mrs Khurmy.
"We've had so many setbacks. We've looked forward and then something has happened. We've gone back two steps.
"But now it's coming along. We are really excited and it's really nice to see light at the end of the tunnel."