Camden Council to move poorer families out of the borough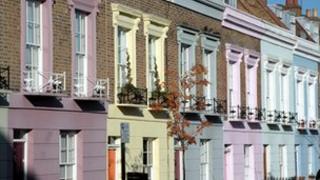 A London council has said it could move up to 200 low-income families out of the capital because it can no longer afford to accommodate them.
Camden said the government's welfare benefits cap means poorer families could not afford to live in the area.
The Labour-run authority said it was looking at areas as far as Bradford, Leicester and Birmingham to house them.
The government said the cap restored fairness into the welfare system and gave support to those who needed it.
The north London council said it would contact 761 households - 2,817 people - who may be affected by the government's benefit cap, which will limit total welfare payments to £500-a-week for families from later this year.
'Deeply concerned'
The council said the majority of these families had three children and would need to find on average an additional £91 a week for rent.
The council also blames the lack of available housing and high private rents.
Councillor Sarah Hayward, leader of Camden Council, said: "We are deeply concerned with the continued cuts to welfare benefits and how this will impact on Camden.
"The very high housing costs in Camden and across London mean that low-income households will find it increasingly hard to find affordable accommodation if they are not in social housing."
Blanket policy
She said the authority had a good record in re-housing the homeless but added: "Sadly however, the scale of the cuts, high private rental costs and lack of available housing in Camden will mean that more people will soon have to consider moving from the borough and in some cases London entirely."
Other London councils, such as Westminster and Newham, are considering similar schemes, but councils in the north of England may not be able to assist.
Val Slater, Bradford Council's executive member for housing, said: "There is often a misunderstanding, especially within London and the South, that Bradford is a low-demand area with a plentiful supply of housing.
"This is not the case as there are currently 20,000 people wanting social housing, we have 10% overcrowding in some areas of the city and there is also sufficient demand for privately-rented properties.
"We also have a severe shortage of school places, especially in those areas where families and children would be likely to be relocated. We have advised Camden Council of Bradford's position."
A spokesman for the Department for Work and Pensions said: "It's not right that benefit claimants can receive higher incomes than families who are in work.
"That's why we're introducing a cap on benefits - to restore fairness back into our welfare system while ensuring that support goes to those who need it.
"Local authorities must consider the individual circumstances of the household and they must absolutely not apply a blanket policy of moving homeless families to different districts."