Ali Dizaei appeal against conviction rejected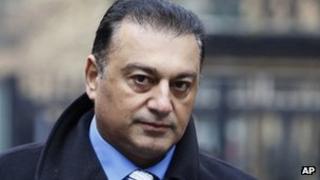 Former Met Police commander Ali Dizaei has lost an appeal against convictions for misconduct and perverting the course of justice.
Dizaei, 50, from Acton, west London, was jailed in 2010 for framing a businessman after a row.
He was found guilty for a second time at a retrial last year after his first conviction was quashed.
The Court of Appeal dismissed claims that the trial judge made an error of judgement over character evidence.
'Bad character'
Dizaei's QC Stephen Riordan had said the conviction was "unsafe" as the judge had not allowed certain "bad character" evidence relating to the businessman, Waad al-Baghdadi.
Opposing the appeal, Peter Wright QC, for the Crown, told the court: "There was no error by the judge in the exercise he undertook. The decision was not wrong in law."
At the second trial, Dizaei was also convicted of misconduct in a public office.
He received a three-year prison sentence, although London's Southwark Crown Court reduced this by the 15 months he had already served and he has been released.
Dizaei was sacked by the Metropolitan Police last May following internal disciplinary proceedings.
After the ruling, Daniel Godden, partner at Hodge Jones and Allen, the law firm representing Dizaei, said: "We are disappointed that the Court of Appeal did not hold Ali Dizaei's conviction to be unsafe."
But he added the firm "has potentially discovered fresh evidence" relating to Mr al-Baghdadi "which the Court of Appeal did not consider and the case will now be referred to the Criminal Cases Review Commission".
The Commission is an independent body which investigates possible miscarriages of justice.
Dizaei was a police officer for 27 years, beginning his career with Thames Valley Police then working with the Met.