Would you befriend a paedophile?
By James Boakes
Inside Out, London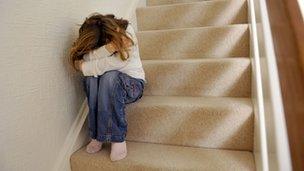 Would you spend time with a child sex offender if this made them less likely to reoffend?
Despite such offenders being some of the most loathed individuals in society, dozens of volunteers across London and the Thames Valley area choose to spend an evening every week in their company.
Under the Circles of Support and Accountability programme, members of the public volunteer to befriend recently released paedophiles.
These volunteers form a "circle", typically made up of four or five individuals, around the offender.
About 100 Londoners have volunteered for the scheme. BBC London's Inside Out spoke to those involved.
Volunteer Cathryn, 46, said: "When I first came into it I was actually quite nervous - I don't really know very many criminals.
"I don't think I'd ever met anyone who had done a violent crime in my life."
She sets aside an evening every week for a meeting. The offender she is currently working with struggles to manage day-to-day life.
Cathryn said: "This time he has actually managed to budget well enough to get some money on his Oyster card and a mobile phone so he has finally done something sensible with his money."
Inside Out also met former offender who joined a circle in 2010 having left prison in 2005.
David's criminal convictions included gross indecency and the attempted rape of a child.
Those working with this man believe he has not reoffended and David has expressed remorse for his crimes.
He said: "My offending was mainly against children - some from families that I knew. I would pick up victims in playgrounds or in woods."
David (not his real name) believes Circles has a key role to play in supporting former offenders.
He went on: "It can be a lot to people to know that they can come out and there are individuals to help.
"It's about getting people to open up about themselves, knowing they won't get ridiculed.
"A circle builds up your trust, you get to socialise and you get to meet people after being away a long time."
Despite this, David admitted he was not 100% sure he would never reoffend again.
For him, it is an on-going battle against an addiction.
He said: "The only way offenders can stop offending is to have faith in themselves and want not to offend."
Donald Findlater from the Lucy Faithfull Foundation - the organisation running Circles - said: "Circles don't work in every case but they do make the former offender accountable for their actions.
"A circle can't begin without the former offender deciding in the cold light of day they do not want to offend again."
So do volunteers worry offenders may lie to them?
Cathryn said: "Yes, I do. In the end you can't watch somebody 24-hours-a-day.
"All I can I think is there is quite strong evidence to show people who come through these programmes are much less likely to reoffend."
Fellow volunteer Simon, 39, said: "Is this true, is it not true? How much am I being fed a story?
"Actually by the end of it I am confident, as much as I can be, that everything I was told was the truth."
Professor David Wilson, a former prison governor who has studied the effectiveness of the programme, believes there are few effective alternatives.
He said: "There are very few circumstances in which you can lock them up and throw away the key.
"Castration does not stop them reoffending.
"This isn't a physiological need, it is a psychological need.
"The only way you can change that psychological need is through circles of support and accountability."
The Circles programme started in Canada in 1994, when prolific paedophile Charlie Taylor was approaching the end of his sentence.
The prison psychologist, fearful of what Taylor would do when released, called a pastor and asked if he could help.
Taylor did not reoffend - and soon the prison called the pastor seeking help with another child sex offender.
Academic studies in Canada found participation reduced the likelihood of paedophiles reoffending by more than 60%.
Now the UK Ministry of Justice (MoJ) is reviewing outcomes of pilot schemes it funded in Thames Valley between 2002 to 2010.
But prominent voices in British child protection believe the MoJ should do more to champion the approach.
Jon Brown from the NSPCC: said: "I have been a little surprised at MoJ's reticence in really welcoming circles and giving a clear indication that circles should gradually be extended. That is what needs to happen."
An MoJ spokesman said: "There are a number of interventions available for sex offenders in the community to reduce risk and stop reoffending, including multi-agency public protection arrangements and notification requirements under the sex offenders register."
Related Internet Links
The BBC is not responsible for the content of external sites.