New fund hopes to raise teaching standards in London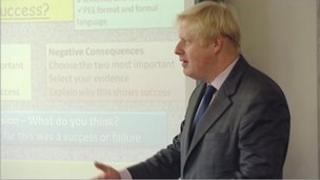 A £24m fund has been created to help improve teaching standards in London.
The London Schools Excellence Fund has been funded with £20m from the Department for Education. The rest is from the Mayor of London.
Schools will be encouraged to bid for money in collaboration with each other as well as with partners such as charities, businesses and universities.
The fund is the first recommendation to be implemented following the Mayor's Education Inquiry.
The year-long independent investigation looked into the successes and challenges for London schools even though London Mayor Boris Johnson has no statutory role in education.
'Crunchy subjects'
One of the first pilot schemes to be financed by the fund is a residential programme for primary and secondary teachers aimed at deepening their subject knowledge.
Mr Johnson said: "Many schools in London are doing tremendous work, and have high expectations of their students.
"They are not afraid of teaching the 'crunchy subjects' like maths, languages and sciences, or putting their children on a meaty diet of reading the classics or learning grammar."
He added: "I now want this level of ambition in all of our state schools in the capital, and the one key thing we have learned from last year's inquiry that supporting our teachers' professional development is vital to achieving this."
Close eye
Education Secretary Michael Gove said he hoped the scheme would galvanise schools across the country.
Len Duvall, Labour group leader on the London Assembly, said he welcomed any proposals that would increase the aspirations and education of schoolchildren.
"However, Boris has a record of launching projects which he then quietly drops or doesn't deliver well," he added.
"The education of our children is too important to let slip. We will be keeping a close eye on the delivery of this programme and making sure it has a positive impact."
The Greater London Authority will also develop the London Curriculum, another recommendation in the Mayor's Education Inquiry. This is designed to support schools to adapt to the new National Curriculum, announced by the government last week.