Judge rules prisoner Daniel Roque Hall can return home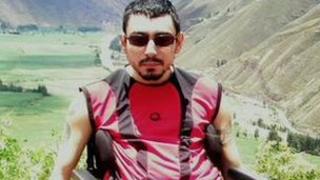 A severely disabled prisoner who requires round-the-clock treatment does not have to go back to jail, the Court of Appeal has ruled.
Daniel Roque Hall, 30, was given a three-year sentence in July after admitting trying to smuggle cocaine worth more than £300,000 in his wheelchair from Peru through Heathrow.
He was sent to Wormwood Scrubs, but suffered heart failure within weeks.
Hall, from north-west London, has spent most of his sentence in hospital.
He has Friedreich's ataxia, which causes loss of physical co-ordination, and is not expected to live into his 40s.
'Application of mercy'
Allowing his appeal against sentence, Lord Justice Hughes, Mr Justice Wyn Williams and Mr Justice Hickinbottom substituted his sentence for the lesser term of 18 months, which means he can return home this week.
He was taken to University College Hospital last August and has been kept in hospital under prison guard since then.
He has impaired speech, diabetes and a weakened heart, and was being cared for round-the-clock before he was sent to prison.
Lord Justice Hughes said there was no lack of punishment in what Hall had undergone since being sentenced, and his case was "an appropriate case for an exceptional application of mercy".
Hall pleaded guilty to smuggling 2.8kg of cocaine out of Peru at Isleworth Crown Court in February last year and was sentenced in July.
'Genuine remorse'
Lord Justice Hughes said in his written judgment that it was "a very unusual case".
"The defendant was not exploited by someone else, nor does he suggest that he was blackmailed or put under severe pressure," he said.
"Severely disabled as he himself is, the quantity of the drug imported was capable of ruining the lives of many other people, either directly from taking it or via the harm that those who took it might do to others."
The judge said the court could not be sure whether his offending was prompted by resentment against society generally "attributable to the appalling handicaps life had visited upon him".
He said it was Hall's first offence and he had demonstrated genuine remorse and been at pains to exonerate his carer.
But the condition of gravely ill or severely disabled people who committed serious offences "cannot be a passport to absence of punishment", the judge said.
Hall's mother Anne Hall said she was "absolutely delighted" with the court's decision.
"The court has made a right and just decision for which I am grateful," she said.