Olympic legacy: Plans for cycling 'feast' announced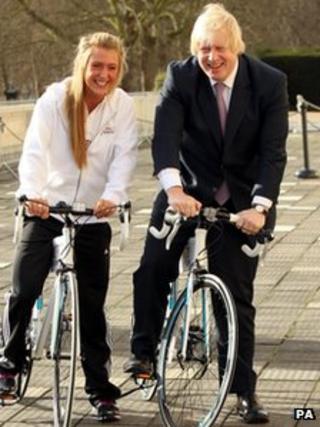 The Olympic Park will be the starting point for a two-day cycling festival, it has been announced.
London Mayor Boris Johnson has called the event "a fantastic feast of velocipedes" and said it was part of the Olympic Games' legacy.
More than 70,000 cyclists of all ages and abilities are expected to take part in four separate Ride London events on 3-4 August.
The highlight will be a 100 mile (160km) race from London to Surrey.
The event has been called a key strand of the post-2012 Olympic and Paralympic legacy and is expected to be the largest mass participation cycling festival ever held in the UK.
Starting in the Queen Elizabeth Olympic Park, the route will pass many of London's iconic landmarks, before heading through Richmond Park and out into the Surrey Hills.
The ride will also include a steep climb up Box Hill and Leith Hill before returning to finish at The Mall in central London.
Mr Johnson said: "Following the superhuman efforts of our Team GB cyclists last year, thousands of cycling enthusiasts, both experienced and amateur, riding a fantastic route through the streets of our fine city is surely a fitting legacy."
'Piece of cake'
Speaking at a press conference, he said he would be taking part.
Of his training programme for the challenge, Mr Johnson said: "At the moment it is undeveloped but I will be a chiselled whippet by the end of it.
"I am in for it now. It looks like a piece of cake. I have said that I will do it and I will do it."
He added: "I am very confident that I can do it but I am not confident how long it will take me."
Laura Trott, double Olympic gold medallist, said she hoped the event encouraged more people to start cycling.
The four events making up the two-day cycling festival are:
An eight mile ride through central London where the roads will be closed for up to 50,000 people to part in on 3 August
A Criterium Race, which will be a city centre loop for professional women cyclists, and youth and hand cyclists
On the Sunday, there will be a 100 mile ride from London to Surrey and back, which is expected to see 20,000 riders take part
A "see the greats" event which will see the top international professional men take to the roads of London and Surrey in a UCI Europe Tour event