Danny O'Shea 'murdered' in Canning Town 'over stolen phone'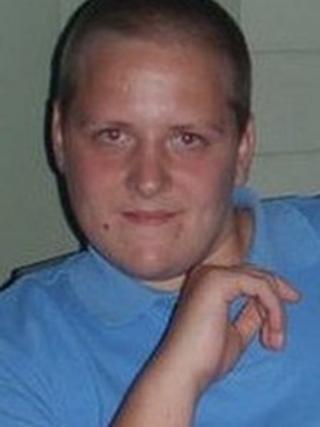 Ten men murdered a teenager in a "revenge" attack over a stolen Blackberry mobile phone, the Old Bailey has heard.
Christopher Nathaniel, 35, and Paul Boadi, 34, of Docklands, east London, are accused of killing Danny O'Shea in Canning Town, east London.
They and eight other men deny murdering 18-year-old Mr O'Shea in December 2011.
Mr O'Shea was stabbed in the throat yards from his mother's home.
Mark Heywood QC, prosecuting, said the defendants travelled to the area to "exact revenge" after Mr Boadi's mobile phone was stolen a week earlier.
"The plan was to teach a lesson," Mr Heywood said.
"A lesson with violence that you do not mess with Paul Boadi, Christopher Nathanial, or anyone else.
"When it came to it, the plan was carried out with speed, with force and with zeal."
Mr Heywood said Mr Boadi had been left "angry and upset" when as many as seven men attacked him and took his phone the previous week.
'Plan of violence'
He spoke to his business partner and friend Mr Nathaniel and the pair arranged to return to the area with another eight men to hunt for those responsible, the court heard.
Eight of the men hired a minibus to travel to Canning Town on the evening of 18 December, while Mr Boadi and Mr Nathaniel travelled in taxis, Mr Heywood said.
They spent more than two hours searching the area before they came across a group of young men, including Mr O'Shea, of Gill Avenue, Canning Town, who they believed had robbed Mr Boadi, the court heard.
Some of the men caught Mr O'Shea and began beating him before one of the defendants stabbed him in the neck, the jury heard.
The defendants fled as the teenager attempted to return home but he died at the scene, Mr Heywood said.
Mr Heywood said it was not known which defendant stabbed Mr O'Shea but told the court all of the men were aware of the "plan of violence".
"Each one was there to play a part," he said.
The defendants are Mr Nathaniel and Mr Boadi, both of Docklands, east London; David Hylton, 47, from Holborn, central London; Andrew Johnson, 35, Paul Johnson, 33, and O'Neil Wareham, 30, all from Harrow, north-west London; Ferron Perue, 24, from Birmingham; Kevin Richards, 32, from Harlesden, north London; Nugent Rowe, 29, from Pinner, Middlesex, and Scott Marius, 44, from Clinton Villas, west London.
All of the accused deny murder and conspiracy to commit grievous bodily harm.
The trial continues.