London taxi fares to rise by 0.7% in 2013/14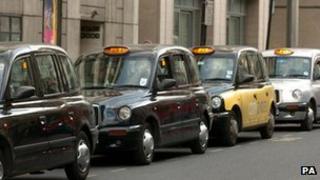 A below inflation rise in taxi fares for the coming financial year has been agreed by the board of Transport for London (TfL).
TfL said the average increase of 0.7% from 5 April would be the lowest in the decade that it has licensed taxis.
A spokesman from the Licensed Taxi Drivers Association (LTDA) said it thought the rise was "about right".
Both organisations said the costs associated with running a taxi have gone up.
The LTDA spokesman said: "It's a below inflation rise and everybody knows fuel and insurance have gone up.
"It's far below the rise in bus and Tube fares. It will enable us to keep pace with the cost of living."
The board also approved an increase in the "Heathrow Extra" additional charge to fares for journeys starting at Heathrow, which will rise from £2.40 to £3.20.
It also approved a 40p rise in all taxi fares if diesel reaches 179.7p per litre.