Nicola Edgington trial: Timeline of events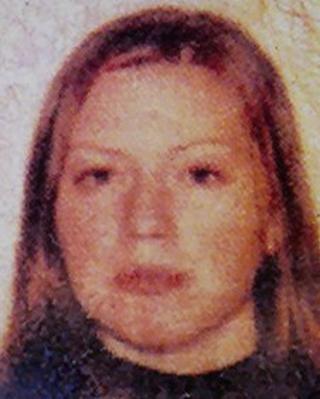 Psychiatric patient Nicola Edgington has been found guilty of murder and attempted murder.
The 32-year-old from Greenwich, south-east London, stabbed Sally Hodkin, 58, and Kerry Clark, then 22, in Bexleyheath on 10 October.
She had previously been treated in a medium secure psychiatric facility after she pleaded guilty to the manslaughter of her mother in 2005. She had stabbed her mother.
In the early hours before the Bexleyheath attacks she was in contact with the emergency services and two hospitals, where she repeatedly said she needed to be sectioned.
This did not happen. Instead, she was able to walk out of a hospital and attack the two women.
Here is a timeline of Edgington's movements.
03:00 GMT
Edgington takes a minicab to Lewisham Hospital. On arrival she tells the driver the hospital is closed and she leaves. He checks and it is open.
Her head is down and there is saliva coming from her mouth.
The taxi driver takes her back to the minicab office where a row breaks out because she cannot pay the fare.
She is said to be shaky and distressed and says she needs to be sectioned.
04:29
The police are called and they take her to Queen Elizabeth Hospital in Woolwich.
Edgington becomes agitated, saying she does not feel safe. She goes to leave but officers usher her back inside before they leave.
She then messages her community psychiatric nurse who does not return the call because she is off sick.
She calls her social worker who sends a text message back to confirm a meeting later that day.
04:45
Still in the hospital, she calls the Bracton Centre, a specialist forensic mental health centre which was responsible for monitoring her after she was released from the psychiatric facility run by the Oxleas NHS Foundation Trust.
She was being treated for schizophrenia which was complicated by emotionally unstable personality traits.
04:53
Edgington tells the nurse she is hearing voices and wants to see a mental health person and go into a secure hospital.
She calls 999 repeatedly saying she might harm someone.
05:30
Tells a psychiatric nurse that she had not slept for three weeks and needs to be sectioned. He tells her the process is a voluntary one.
06:30
Edgington is walked over to the Oxleas Unit by A&E staff. She is seen by a doctor on duty and is left with a clinical nurse who is in the process of handing over to a colleague.
The main door to the building, which is normally locked, is left open to allow the staff changeover to happen.
07:05
Edgington walks out saying: "I'm going to call my care coordinator".
Instead, she takes the B16 bus to Bexleyheath.
08:20
Edgington buys a large knife from Asda.
08:29
She attacks Ms Clark who manages to free herself and grab the knife. After a stand-off, Edgington calmly walks away and into a butcher's shop where she steals a steak knife.
She then walks to Albion Road where she attacks Mrs Hodkin.
08:41
Mrs Hodkin's death is certified.
09:40
Edgington is arrested on suspicion of murder.