Boris Johnson says London fire cuts consultation to proceed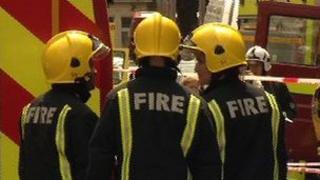 A consultation on plans to close 12 fire stations in London with the loss of 520 jobs will go ahead, the mayor has confirmed.
Boris Johnson took the unprecedented step after the London Fire Authority rejected the plans, aimed at saving £45m over two years, last week.
Mr Johnson said he would use his powers as mayor to proceed with the consultation.
The Fire Brigades Union (FBU) said the mayor's actions were "an outrage".
'Outrageous claims'
Mr Johnson said London Fire Brigade crews attended half as many fires as a decade ago, while fire deaths were down by a third.
He said: "There have been some outrageous claims that the fire commissioner and I would put lives of Londoners at risk, so I have directed the plans to go for consultation as planned because the option presented by the authority is unfit for purpose and unsustainable in budget terms.
"It is essential that the London Fire Brigade continues to modernise so that it can remain one of the world's leading rescue services and is equipped to respond to 21st century fire fighting needs.
"It's right that tough decisions have to be made in times of economic uncertainty.
"History shows the difficulties organisations face when they don't meet their financial responsibilities.
"With 100 fire stations and over 150 fire engines, I am completely resolute that any agreed proposals will still be able to deal with large scale or multiple emergencies."
'Deep cuts'
Paul Embery, the FBU's regional secretary for London, said: "These cuts are reckless and wrong, and it is an outrage that the mayor is going against the democratic decision of his own fire authority and the wishes of most Londoners.
"The mayor is single-handedly jeopardising the safety of millions of Londoners on the altar of crude economic considerations."
Navin Shah, Labour's fire spokesman on the London Assembly, said the mayor's move was the first step in closing the 12 stations.
"Boris needs to think again and look at reallocating resources from the wider Greater London Authority budget," he said.
"This will keep our fire stations open and protect the safety and security of Londoners.
"He is trying to force the London Fire Authority to make these deep cuts, which are opposed by us and many Londoners."
Mr Shah said he had called an emergency meeting of the fire authority to discuss the mayor's intervention.