Whittington Hospital: 'Shock' over site cut plans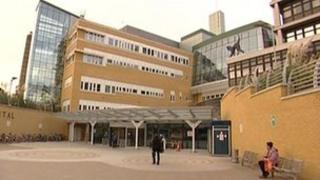 Campaigners have said they were shocked to find out bosses at a north London hospital were planning to close half its site and sell off the buildings.
Whittington Hospital in Archway is selling six blocks used as wards and staff accommodation, to raise £17m.
It says some services being lost will be provided by other health centres.
Defend The Whittington Hospital Coalition said this would mean fewer beds with resources already stretched.
The changes, detailed in the Estates Strategy report, include:
In-patient wards to be closed and beds for the elderly and new parents axed
All NHS staff accommodation to be closed and sold off
Births at the hospital to be capped to 4,000 a year
A report to the board said: "Workforce numbers had been recast from 850-900 to 550, and might be reduced still further."
Camden Council said it held a meeting with the chief executive of Whittington Health on Monday morning together with Jeremy Corbyn, MP for Islington North.
Local MPs were also due to meet the hospital board on Tuesday to express their concerns.
'Chopping' hospital care
Leader of Islington Council Catherine West, said: "Health inequality is at an unacceptable level in our borough. We are determined that health care services must improve and will be standing together against any action that threatens this."
Meanwhile Shirley Franklin, chair of Defend The Whittington Hospital Coalition, said she heard the changes had been approved second-hand.
"I didn't know about it at all, it was buried in board papers. It feels like it was secretive and a shock to everybody," she said.
Of the Trust's plans to use other care providers, she said: "Community care is always welcome and that's great but it's the beds we need.
"The hospital care is also what people need and that's what they're chopping."
Ms Franklin said selling staff accommodation would have a real impact as the area was so expensive to live in.
She said protesters would be looking to launch a campaign against the closures which would include an online petition, demonstration and a public meeting on 12 February.
'Dependency will decrease'
In a statement, the Whittington Health Trust Board said: "The strategy responds to the health trends of our local population.
"More people are receiving healthcare in their homes, health centres and GP surgeries. Technology will increasingly support more care, especially for people with long term conditions.
"The frail elderly are often best cared for in community settings. Over time, the dependency on hospital wards will decrease, which will see some staff relocate to health centres."
It said the old buildings were expensive to maintain and it planned to modernise infrastructure.
It said that in the next five years, it would invest £10m on maternity services, £2.8m on a new assessment centre, £1.9m on a new education centre and £7m would be spent on an electronic patient record system.
In 2010, the hospital's plan to close its A&E department was stopped by the then health secretary, Andy Burnham.