Former PC Christopher Exley sentenced over indecent images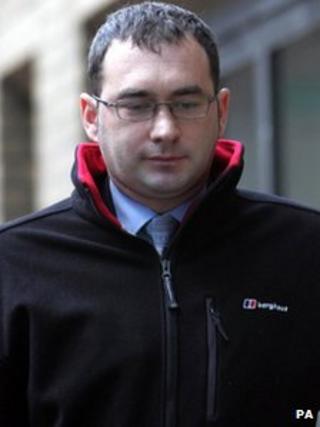 A former Metropolitan Police officer who made indecent images of a child has been given a three-year community order.
Christopher Exley, 33, who protected MPs in the diplomatic protection squad, admitted four counts of making images of a child under 18 last month.
He was dismissed from the Metropolitan Police Service earlier in January.
Exley was ordered to enrol on an internet sex offenders programme for three years at Southwark Crown Court.
Judge Anthony Leonard QC also ordered him to attend supervision with police over 18 months, to observe a curfew between 20:00 GMT and 06:00 GMT and to wear an electronic tag.
Exley, who was based at Charing Cross Police Station in central London, was a constable in the diplomatic protection squad who guarded members of Parliament.
'Special circumstances'
In December Exley admitted three counts of making an indecent image of a child under 18, and making 53 indecent images of a child.
Addressing Exley, Judge Leonard said the offences were "serious" but he had taken into account "special" circumstances in the case.
"Most of the images that were downloaded were only in the form of thumbnails and you did not go further to download the full pictures," he said.
"They were downloaded or accessed at four separate accounts only, I took that into account.
"I also took into account the deletion of the vast majority of the images, leaving, I think, only five out of what was in effect 49 images, if one takes out the repetition."
"I take into account your previous good character and the material that I have read on you," he added.
"You get no special treatment as a result of having been a police officer."
Nicholas Yeo, defending, said Exley, who had been a police officer since 2002, had at "no stage" distributed or shown any of the images.
He added that the former police officer had been a "respected and trusted" police officer who had worked protecting MPs in his role in the diplomatic protection squad.