Artist Stephen Wiltshire recreates view from The Shard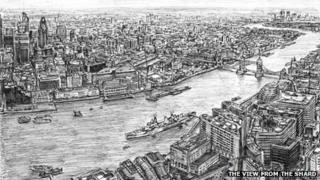 An artist known for recreating detailed cityscapes from memory has captured the view from the top of the UK's tallest building, The Shard.
Standing on a viewing platform at 224m (800ft) high, Stephen Wiltshire has created a drawing of London's skyline.
It features landmarks such as Tower Bridge, the Gherkin and HMS Belfast.
Aided by his autism, he started to draw before he could talk. One of his most high profile works was a recreation of the New York city skyline in four days.
Mr Wiltshire said: "London is my home town and is a beautiful city.
"Seeing the city from so high was a great experience. I especially enjoyed seeing how the river bends and curves towards the sea.
"Drawing the view was an amazing experience and I am very proud of my work."
£2bn redevelopment
The drawing offers a glimpse of what will be visible from The Shard's viewing platform, which opens to the public next Friday.
Andy Nyberg, chief executive of The View from The Shard, said: "It is the only place you can see the entire city laid out before you and Stephen's interpretation of the view is simply astonishing."
The Shard is part of a £2bn redevelopment of the London Bridge area.
The triangular-shaped building has offices, three floors of restaurants and a 200-room hotel which is due to open this summer.
There are also 10 apartments which are expected to be priced as high as £50m each.