Litter fines 'cash cow' for London councils
By Matthew Lynch and Ed Davey
BBC Inside Out, London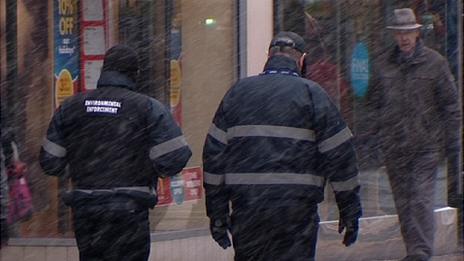 Litter fines are being used as a cash cow by councils employing "private police forces", a BBC investigation suggests.
The number of litter fines issued by English councils has rocketed from 727 in 1997 to 63,883 last year.
Now Inside Out has discovered three councils in London effectively incentivise XFor, a private company, to issue as many fines as possible.
The councils insist their only goal is to keep streets clean.
But figures obtained by BBC Inside Out show all three experienced overnight surges in ticketing after employing XFor.
Bromley Council saw the number of monthly £80 fines leap from four to 618.
In Hillingdon the number shot from zero to 597, while in Enfield fines more than doubled to 360.
Last year in Hillingdon and Enfield, 97% and 94% of fines respectively were for dropping cigarette butts.
Josie Appleton, founder of civil liberties group the Manifesto Club, said: "Cigarette butts are easy to catch - wardens simply find a group of smokers at a bus stop and watch until someone drops a cigarette.
"Perversely, when butts become such a lucrative source of revenue, councils lose interest in persuading people not to drop them in the first place.
"Few councils provide cigarette disposal bins, and smokers believe they shouldn't put their butt in an ordinary bin because it would risk fire."
In Bromley the BBC twice witnessed XFor litter wardens standing out of sight before issuing fines to smokers. Neither was given a warning.
One of those fined, Rachel Cullen, a student, said: "I got a tap on my shoulder - I panicked and thought I'd started a fire.
"It didn't occur to me dropping a cigarette was the crime.
"They didn't tell me who they were - I was terrified."
Unlike with parking fines, the only appeal option is before magistrates - where Ms Cullen said was warned she might face a £2,000 fine.
XFor typically receives £45 per ticket issued.
The company's website insisted its officers will issue enough fines to cover wardens' pay, saying: "Through careful auditing it's ensured XFor generate the income to cover the service from penalties issued."
Ms Appleton warns financial incentives have led to private police forces - with the official issuing the fine directly or indirectly benefitting.
She said: "Their concern becomes not public service, but looking for people to fine.
"There's no room for leniency - every missed fine is missed income.
"This goes against hard-won principles. Since the 19th century it's been established officials shouldn't benefit from their position."
Her research shows 15 local authorities in England issue half the litter fines.
Despite their comparatively small size, four of the top ten issuers were London boroughs: Newham, Enfield, Hillingdon and Islington.
The Magistrate's Association believes the situation is dangerous.
Chairman John Fassenfelt said: "Magistrate's Court is much more transparent and consistent. It delivers justice over and above what the private company can deliver.
"Private companies don't report to anybody, the public can't question it - there's very limited appeal provisions."
An XFor spokeswoman said: "We understand concerns raised with regard to alleged incentivising private enforcement services.
"We offer a menu of payment options. This includes daily rates as well as a percentage of the revenue from each appropriately raised fixed penalty notice.
"The vast majority of clients choose the second option to maximise cost effectiveness and achieve cost neutrality."
She added: "The only people affected by our presence are individuals that leave litter."
Bromley Council deputy leader Colin Smith said: "It's a hard line policy. We're keen to drive the message - residents are sick to death of littering.
"The genesis of the scheme is that we won't put up with it any longer.
"We do not issue warnings."
The council insists the programme only breaks even. Councillor Smith said: "It's not a big milk cow."
A spokeswoman for Hillingdon Council said: "Our residents told us they wanted us to take a tougher stance on littering in Hillingdon and we responded.
"The council does not aim to make a profit and the income from penalties received helps to fund the running costs of the scheme."
Litter fines rose steeply after a 2005 act allowed councils greater flexibility in the use of the revenue.
The increase came as councils faced funding shortfalls over the recession - and an associated fall in parking tickets.
Even councils with in-house litter enforcement face profiteering claims.
Islington Council issued 2,348 fines last year - compared to 122 and 78 in neighbouring boroughs Hackney and Camden.
All three are of similar size and demographics.
Opposition leader in Islington, Terry Stacy (Liberal Democrat), said: "They're looking at residents as a cash cow.
"All they're interested in is screwing as much money out of them as possible."
But Councillor Paul Smith (Labour), said: "Over 7,000 tonnes of litter are dropped on our streets every year.
"Stopping littering is one way we can save money - and keep important services like our libraries open."
Responding to the investigation, Local Government Minister Brandon Lewis said: "Those who harm the environment by shamelessly littering and fly-tipping should be brought to book.
"But councils shouldn't be using residents as cash cows and shouldn't be persecuting people for petty or insignificant breaches."
BBC Inside Out is on BBC One in the London region on Monday, 28 January at 19:30 GMT and nationwide on the iPlayer for seven days following transmission.
Related Internet Links
The BBC is not responsible for the content of external sites.