Tube 150th anniversary: New £2 coins mark milestone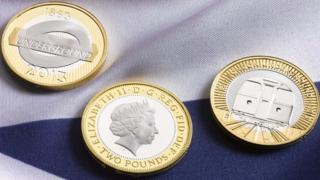 Two £2 coins created to celebrate the 150th anniversary of the London Underground are to go into circulation - starting at selected Tube stations.
The Royal Mint is asking anyone lucky enough to get one in their change to contact it on its Facebook page or on Twitter.
To begin with, the coins will only be issued at ticket machines and then later at ticket offices.
They will be issued into general circulation later this year.
There are two different designs of the London Underground coins.
The £2 'train' coin, designed by Edward Barber and Jay Osgerby who designed the world-famous London 2012 Olympic Torch, depicts the front of the familiar Tube train emerging from a tunnel and carries an unusual patterned edge inspired by Harry Beck's iconic Tube map.
The £2 'roundel' coin, created by designer Edwina Ellis, bears the London Underground logo and features the edge inscription 'Mind the gap'.
Mike Brown, the Managing Director of London Underground, said: "London Underground has always played a vital role in the economic growth of the capital and the UK and these attractive coins are a wonderful celebration of its success over the last 150 years."
Earlier this month, commemorative stamps also went on sale to mark the milestone.