Charles and Camilla meet City & Guilds of London carvers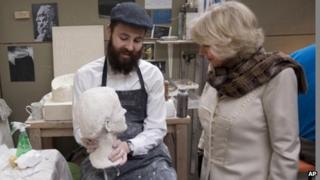 Wood and stone carvers have met the Prince of Wales and Duchess of Cornwall at a property that is owned by Charles' Duchy estate.
The royals met the artisans as they toured the City & Guilds of London Art School in Kennington, south London.
Camilla was shown a model head by trainee Nicholas Thompson. The Duchess touched the white plaster piece and quipped about its broken right ear.
The student is one of about 230 people enrolled at the school.
Students and staff from the school created the classical sculptures that decorated the Queen's royal barge used in last summer's Diamond Jubilee celebrations on the River Thames.
The art institution has been able to increase the number of students it teaches after moving into an empty property, neighbouring its site, owned by the Duchy estate.
The estate, consisting of investments and land - including the Oval cricket ground, funds the public, private and charitable activities of the prince and his family.