East London homophobic abuse 'vigilante' victim plea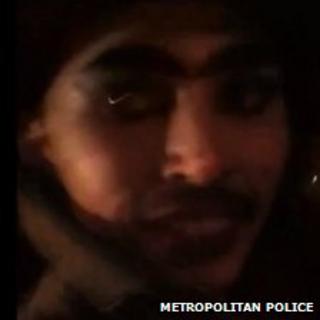 A man subjected to homophobic abuse in east London by a group who told him "get out of here" as "it is a Muslim area" is crucial to the police investigation, Scotland Yard has said.
In a video that appeared online, a gang can been seen to intimidate the man.
Police have now made two more arrests in connection with the video.
Last week, the East London Mosque condemned men shown in another video posted on the internet claiming to be "patrolling" Whitechapel.
Det Ch Insp Wendy Morgan, stationed in Tower Hamlets borough, said: "The Met takes such homophobic behaviour very seriously.
"This man is a crucial witness in the investigation and we would encourage him and anyone else with information to make contact in confidence as soon as possible."
In the latest video, the man is told: "Get out of here you fag... Don't stay around here any more."
'Utterly unacceptable'
In the previous footage posted last week, a group of men announced themselves to passers-by as "vigilantes implementing Islam upon your own necks".
The East London Mosque responded to the video saying: "Individuals claiming to be self-styled 'Muslim patrols' have been harassing members of the public on the streets of east London late at night, including outside our mosque after it has closed.
"These actions are utterly unacceptable and clearly designed to stoke tensions and sow discord. We wholly condemn them."
Gay rights group Stonewall said: "This incident is yet another reminder of the homophobic abuse that gay people face all too often."
Officers said the incidents took place at some point on 12 and 13 January.
Four people have now been arrested as part of the investigation.
A 22-year-old man was arrested in Acton, west London on Sunday, and while another man, aged 19, was arrested on Monday after going to an east London police station.
The pair were held on suspicion of causing grievous bodily harm and public order offences and were bailed to return to an east London police station in February and March.
On Thursday, a 25-year-old man and another male, aged 29, were arrested.