EastEnders' Gemma McCluskie death: Brother's claims 'feasible'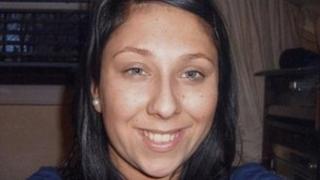 Claims by the brother of former Eastenders' actress Gemma McCluskie that he has no recollection of killing her are "feasible", a court heard.
Tony McCluskie, 35, from Shoreditch, east London, denies murdering former Eastenders' actress Gemma McCluskie but admits manslaughter.
He told the Old Bailey he has no idea what happened after he grabbed her.
Prof Michael Kopelman said memory gaps could occur in "emotional" violent crimes involving family members.
The expert in neuropsychiatry at the University of London assessed McCluskie while he was in custody at Belmarsh Prison following his arrest.
When asked by defence barrister Jeremy Dein QC whether it was feasible McCluskie had "genuine amnesia", he replied: "It is feasible that this may be the case.
"It commonly gets reported where the crime takes place in a state of emotional arousal, unpremeditated and unplanned and the victim is a wife, partner, relative, someone close to the defendant.
"There are things that have reminiscent characteristics of the literature on these cases, but there have been inconsistencies in his account and there was a delay in reporting his amnesia."
He said memory gaps in violent offenders usually lasted up to an hour but there had been some cases of up to 36 hours.
During his assessment, McCluskie claimed he could not remember anything after grabbing his sister's wrists on Thursday, 1 March - the day she was killed - until the morning of Saturday, 3 March.
'Miss my sister'
McCluskie had shown symptoms of "mild moderate depression" on the Thursday, which progressed to "serious depression" during his time in custody, the court heard.
Prof Kopelman told the jury McCluskie said he suffered blackouts "infrequently" after drinking heavily and regularly smoking a strong form of cannabis.
Completing his evidence, McCluskie said: "There's not a minute of the day I don't think about my sister.
"I miss my sister so much."
The 29-year-old actress's torso was found in a suitcase in the Regent's Canal in east London.
Her limbs were discovered in plastic bags shortly afterwards but her head was not found until six months later.
Ms McCluskie, who played Kerry Skinner in the BBC soap in 2001, was officially identified by dental records.
The trial continues.