Canal community recalls Gemma McCluskie body part trail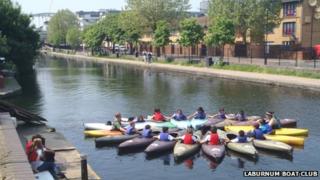 On 6 March last year a human torso was discovered in London's Regent's Canal.
Following the macabre find, people living, walking, working and kayaking in the area knew there were two arms, two legs and a head yet to be discovered - possibly by them.
It was six months before the final part of Gemma McCluskie's body - her head - was found in the canal in Hackney, east London, as revealed in graphic detail during the murder trial of her brother.
One resident of Kingsland Basin said he was having breakfast on his balcony when the discovery was made and there was a commotion among people on the barges below.
He said it "turned his stomach" when his neighbour told him what had been found.
"It's a very dark environment, a macabre atmosphere," he said at the time.
Rhys Thwaites-Jones who lives on a barge, was fishing out rubbish as part of a clean-up held every three months when he lifted out an orange plastic sack which seemed surprisingly heavy.
A bag inside revealed a head.
At the Old Bailey, Tony McCluskie was convicted of murdering his sister and then cutting her up.
'Consoled each other'
The impact of his actions was felt by locals from the moment he pulled a heavy black case to the canal containing his sister's body parts.
One student told the BBC she was on the balcony of her flat with friends and saw him. She wondered what he was doing and joked: "I bet there's a body in there."
On 19 March, Paul Crowhurst who cleans the waterway for the Canal and River Trust, removed a black plastic bag.
It split as he placed it on the deck of his boat and he saw a hand with painted fingernails.
Mr Crowhurst and another colleague, Mark Loveday, went on to discover Gemma's legs and her left arm.
Sam Thomas, their boss, said they were offered counselling.
"They didn't phone our hotline number but helped each other by talking about it," he said.
They carried on with their work despite police saying the search was "incomplete".
Jim Armstrong, who runs Laburnum Boat Club which takes children out kayaking and canoeing on the canal, said people did not spend too much time thinking about the fact the head was still to be discovered.
He said: "Everyone knew that there were body parts around, but as time went on it didn't bother the kids."
'It was grizzly'
One of his groups had a false alarm one Sunday morning when a plastic bag was found containing what looked like a body part. It turned out not to be.
"It was grizzly but the club kept going," he said.
He said that in 23 years he can remember three bodies being found. "They tend to be street drinkers," he said.
In the first two weeks of the investigation, police divers spent about six hours a day searching.
Their work took place for nearly two months.
Despite people's best efforts to continue life as normal, McCluskie's actions had far-reaching consequences.
People who had volunteered to help spruce up the canal for the London Olympic Games were among those impacted.
Ben Fenton of waterway charity Thames21 said: "A lot of our work was cancelled because of the investigation."
But the protracted search ultimately meant the people who suffered the most were Gemma's parents, her other brother and her many friends.
"As a result of his disposing of her body this way, her funeral could not take place until her head had been found," said Crispin Aylett QC as he summed up the prosecution's argument.