South East snow: How did the transport operators cope?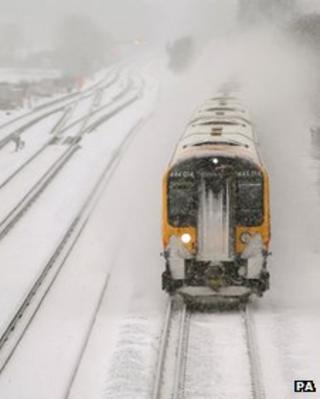 Now the snow seems to be slowly melting, I thought I'd try and assess how the transport authorities have done in the South East.
I sense an improvement but it's only my impression so please give me your thoughts at the end.
Bear in mind it's not just London that has struggled in the snow, and obviously these things are very subjective for passengers.
Roads and buses
The capital's top performer? Gritters timed their runs right and avoided the dreaded ice and grit skid fest of 2009. That meant very few buses had to be cancelled and most of the main roads were kept clear.
Of course timing and the length of the snowfall is crucial but standards seem to have improved since the bus fleet was suspended in 2009.
I visited the Transport for London (TfL) snow desk where it monitors road temperatures. It also co-ordinates salt.
Some boroughs were running out and TfL co-ordinated more deliveries.
The key routes are also more defined now to include bus depots and hospitals. If you live on a minor or side road though, these days you are pretty much left to fend for yourself and that meant a lot of skidding and prangs.
Cyclists and pedestrians have also complained that cycle routes were not gritted. I'm afraid these do not look like priorities anymore; it's all about the key routes.
London Underground
Overall not bad but overrunning engineering works on Monday blotted their record. That compounded problems and meant Monday wasn't great.
They did recover quite quickly though but the components on the overground trains seem to struggle in snow and ice. The Metropolitan line also, again, had problems.
Network Rail/train companies
The last big snow storm in 2010 caused real problems due to the notorious third electric rail which stops working in the snow and ice. Here's a blog I wrote in 2010 on the problem.
What's really changed? Rail passengers faced long delays and cancellations again. Ghost trains and de-icing trains didn't work in places on Monday morning.
The train companies blamed Network Rail who said they needed more investment from government who said that was the plan in the long-term.
Train companies including South West Trains resorted to amended timetables very early on; that provoked anger from commuters who had their services cut like here in Weybridge.
It's difficult to see how this is going to change unless there is a substantial investment in infrastructure and conversion to overhead power lines. There has also been repeated criticism about the lack of information. That could be remedied much more easily.
Airports
Oh dear. Heathrow talks a good talk but if you run at near-capacity and something goes wrong then you are bound to hit problems. That has meant most of the horror stories seemed to have happened at Heathrow; stories of people being stuck on grounded planes for seven hours only to be left in the terminal.
British Airways has also been criticised by Labour's Jim FitzPatrick for handling it badly compared to other airlines.
Other airports have fared better - certainly they don't garner the same media coverage.
Gatwick has gone on the offensive and wants Heathrow to reduce the number of flights for three months during the winter.
Guess where those flights would go? Yep. Gatwick. Unsurprising moving flights for three months challenges the principle of what a hub is and how many "feeder" flights are needed.
The background is that the Davies commission is looking at aviation capacity in the South East.
Gatwick wants to be heard and be considered a player. However as many have pointed out, it wasn't that long ago the boot was on the other foot and Gatwick had problems.
Most interesting is the war of words now between the airports.
Let me know your thoughts. Am I being fair, too kind or too harsh?