Lottery boost for Hackney Empire and other theatres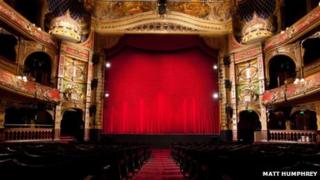 Millions of pounds of lottery money has been given to arts groups to help refurbish run-down theatres, galleries and cinemas.
Arts Council England gave out small grants, between £100,000 and £500,000, to 35 different organisations including east London's Hackney Empire.
Elsewhere, money went to Manchester's Exchange Theatre and the Ikon Gallery in Birmingham.
A total of £11.6m was given out as part of the lottery money funded scheme.
The Grade II listed Hackney Empire, which was awarded £338,800, said it would spend the money on refurbishment and improving energy efficiency.
'Excellent work'
Hackney Empire Chief Executive Clarie Middleton said: "This grant will enable us to address a great many of the issues that have beset the building over the last number of years including several major leaks and subsequent damp problems.
"We also pride ourselves on being accessible and inclusive to all sections of the community and a part of this grant will allow us to make the building even more accessible to wheelchair users and other disabled audience members."
Elsewhere in London, funding went to Bermondsey Artists' Group, Shoreditch Town Hall, and the Bush Theatre.
Arts Council England chief Alan Davey said: "The UK's arts and culture sector is the largest cultural economy in the world as a share of GDP.
"This funding enables arts organisations to maintain the excellent work that audiences across the country enjoy by providing them with high-quality equipment and flexible working environments."