Pitbull owner jailed after five police officers savaged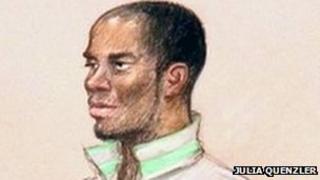 The owner of a pitbull which attacked five policemen in east London has been jailed for 22 months.
Symieon Robinson-Pierre, 25, of Albert Square, Newham, was convicted of three offences of owning a dog dangerously out of control in a public place.
Members of the public filmed the pitbull attacking the officers as they raided the defendant's home in March.
The owner made no attempt to call the dog off and it was shot four times by police, Inner London Crown Court heard.
Three of the officers needed skin grafts and plastic surgery after the attack.
Robinson-Pierre had denied the offences brought under the Dangerous Dogs Act but was convicted at an earlier hearing.
'Hanging off arm'
He was given concurrent sentences of 22 months for each of the offences and banned from owning a dog for five years.
Members of the public at the scene filmed the attack as they sought refuge on walls and inside a police van.
The jury heard Mr Robinson-Pierre told police it was "not the dog's fault, you could have knocked, I'd have let you in."
Det Con Tom Boow was behind three uniformed PCs - Mark Merritt, Martin Corderoy and Lee Bush - as they forced their way into the house during the raid.
He told the court: "Mark Merritt raised his asp [baton] and put it between the dog's jaws to release the bite on Martin's leg.
"I would estimate it took 20-30 seconds to get it off. It then jumped up and bit on to Mark's forearm.
"The dog was literally hanging off his arm and he was trying to swing his arm around in the hope that the dog would get off him."