Cricklewood girl and mother shot through living room window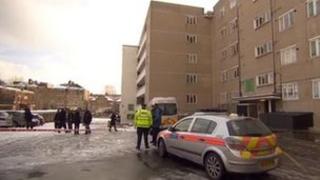 An 11-year-old girl and her mother were injured while watching television in their living room when a gunman fired through the window from the street.
About 10 shots were fired into the flat Chelsea Crescent, St Cuthberts Road, Cricklewood, north London, at about 21:40 GMT on Sunday.
The victims were taken to hospital - the girl with a gunshot wound to the foot and her mother, 48, with injuries to her leg and chest.
No arrests have been made.
Their injuries are not life-threatening.
Three men were seen running away from the property at the time, while four other adults who were in the house were unhurt.
At this stage it would appear the girl and mother were not the intended targets of the shooting, Scotland Yard said.
'A shock'
BBC London correspondent Robin Punt said: "The wooden blinds were firmly shut last night so whoever stood there could not have seen what they were shooting.
"The detective investigating said the sitting room had bullet holes embedded in the wall. He said it was lucky this wasn't more serious.
"This is a rare incident in London, in terms in the number of shots fired and the fact that they were fired into a family home."
Det Insp Glenn Butler said: "This incident occurred in a residential area, which may have led to a number of people seeing what occurred.
"If you saw anything unusual within Chelsea Crescent and the surrounding roads, then please contact the incident room.
"The motive for this incident remains unclear but I am keeping an open mind as to all possibilities."
Forensic tests are being carried out on the bullets to ascertain the type of weapon and how many weapons were used.
A neighbour, who did not want to be named, said: "We were at home and we just heard shooting. It sounded different from fireworks so I guessed what it was.
"I wouldn't expect anything like that to happen here. It's only the second time that I've seen the police here in six years.
"It really is a shock, especially when you have children."