London fire station closure plans rejected in vote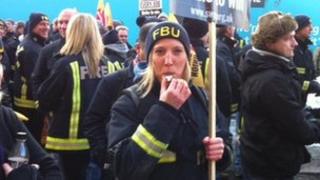 Plans to close 12 fire stations with the loss of 520 jobs have been rejected by the London Fire Authority.
After a fierce debate the proposals - aimed at saving £45m over the next two years - were rejected.
The authority voted by 9-8 in favour of a Labour amendment deleting any references to station closures, appliance reductions and job losses in any future public consultation.
Hundreds of firefighters staged a protest outside the meeting.
Following the vote, a statement from London Fire Brigade said: "Over the coming days, the London Fire Commissioner Ron Dobson will be discussing with officers what this means in terms of setting the Authority's budget and finding the savings of £45m that are still needed over the next two years."
Mr Dobson proposed cutting 10% of front-line posts, but hoped to avoid compulsory redundancies.
London Mayor Boris Johnson, who has ultimate power over the fire authority, said he will "ensure" the consultation continues.
'Reckless' plans
The mayor said: "I am of course always willing to listen to submissions, but it's quite clear today's decision offers nothing positive, indeed it demonstrates a complete lack of leadership.
"This must and will be about improving London's fire service, equipping the brigade for the challenges of 21st century firefighting, and maintaining our exceptional response times across both inner and outer London.
"This consultation will continue as planned. I will be issuing a mayoral directive to ensure it does."
The Fire Brigades Union had described the proposals as "reckless".
The number of fire stations would have been reduced to 100 under the plan.
The move would have seen 12 fire stations close, seven fire stations which currently have two fire engines moving to one appliance, and four stations gaining a fire engine.
Paul Embery, of the Fire Brigades Union, said the proposed cuts were "reckless and wrong".
He said: "You can't slash 12 fire stations, 18 engines and 520 firefighter posts without jeopardising public safety.
"Last week's helicopter accident in Vauxhall showed the importance of having a properly-funded, well-resourced fire service in the capital, and it is worthy of note that the first crew at the scene was mobilised from a station - Clapham - earmarked for closure, and arrived within four minutes."
Labour said its members on the fire authority voted against the proposals because they believed they would jeopardise safety.
Lib Dem and Green Party members also voted against the proposals.