Heathrow Airport: Snow stops one in 10 flights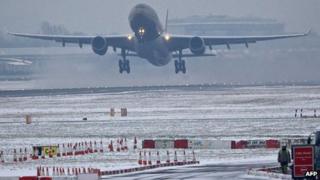 Passengers at London's Heathrow Airport are experiencing a fourth day of delays and cancellations because of snow.
The airport said capacity had been reduced by about 10% with at least 200 fewer arrivals and departures.
A number of train companies have delayed or cancelled services in the capital, including London Overground and Southeastern.
About a third of London schools - 585 - stayed closed with Enfield, Redbridge and Bexley among the worst affected.
A yellow weather warning of ice has been issued by the Met Office for southern England and light snow flurries are possible in the south east into the evening.
Low visibility
Eurostar cancelled six of its 50 departures from Brussels, Paris and London.
Trains are running with speed restrictions leading to delays of up to one hour.
Eurostar passengers have been advised to change their travel plans. The date of travel on tickets can be changed.
London City Airport's runway is open but there are disruptions.
London Overground's service has been affected by the wintry conditions.
There is no service between Surrey Quays and Clapham Junction or between Willesden Junction and Richmond. The trains which are running are subject to delays.
Earlier over-running signalling work at Neasden Depot had a knock-on effect on four lines, adding to commuters' frustrations.
Heathrow Airport said flights scheduled after 16:00 GMT were most likely to be affected by cancellations because of reduced visibility.
A spokesman said the airfield was fully operational but more than 10% of flights were expected to be cancelled by the end of the day.
He said this was partly because other European airports such as Paris Charles de Gaulle were running reduced schedules.
Passengers are advised to check the status of their flights with their airlines before leaving for the airport.
Heathrow Airport has said it is not planning to cancel any of Tuesday's flights, but disruptions at other European airports could have a knock-on effect.
Heathrow Airport's Twitter feed said "hundreds" of extra staff members had been brought in to help with travel queries and re-booking.
Cancellations led to hundreds of passengers spending Friday night in the airport and there were complaints about a lack of information.
The situation has eased but Ian Acheson is one passenger who has had to wait for three days for his Friday flight to Las Vegas to take off from Terminal 5.
He spent more six hours waiting on a plane on Friday and was not given accommodation.
On Sunday, he boarded another plane and after five hours of de-icing he was told his flight had been re-scheduled for Monday.
His luggage was not returned.
He said: "There were some very unhappy passengers."
A spokesman for BA said his luggage had now been located and his plane was due to take off later.
Since Friday, more than 500 flights have been cancelled from Heathrow Airport - 111 on Saturday and about 400 on Friday.
Following days of disruption the chief executive of Gatwick Airport, Stewart Wingate, has now written to Transport Secretary Patrick McLoughlin saying that "over-scheduling of flights at Heathrow during the winter period should stop".
He wrote: "I am proposing that for the key winter months of December, January and February, Heathrow declares a level of capacity it can cope with in winter conditions.
"The additional flights then, for those three months, can move to Gatwick and Stansted. As a result there would be better use of the existing capacity at our London airports, safety would be enhanced and passengers will not have to panic every time it snows."
In response, a Heathrow spokesman said it was for the Airports Commission to examine the issue of UK airport capacity.
First Capital Connect, Southern, South West Trains, Gatwick Express, Southeastern and Greater Anglia have cancellations and delays.
South West Trains has been operating 80% of its normal service, said managing director Tim Shoveller.
Meanwhile, the number of school closures varies from borough to borough.
Only two schools out of 55 are closed in the borough of Merton in south-west London, while 80% of schools in Enfield, north London, are closed.
Ayfer Orhan, Enfield Council's cabinet member for children and young people, said conditions were "dire" and the safety of children was paramount.
But an Enfield parent speaking to BBC London 94.9 disputed her description of the conditions and called the lack of consistency across boroughs "confusing".
The enhanced content on this page requires Javascript and Flash Player 9
Map Key
Land
Cloud
Lakes, Rivers & Sea
Fog
Light
Heavy
Frost
Light
Heavy
Pressure Fronts
Cold
Warm
Occluded
Rain
Light
Heavy
Extreme
Snow
Light
Heavy
Temperature tab only
Temperature (°C)
More details from BBC Weather