Rare spider species found in Highgate Cemetery vaults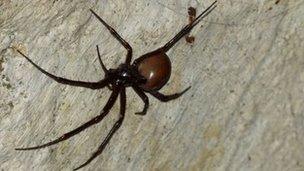 A rare species of spider which lives in darkness has been found in the vaults of Highgate Cemetery in north London, a wildlife trust has said.
The orb weaver spider Meta bourneti was found in the vaults of the Egyptian Avenue of the cemetery in Islington.
Experts said this was the first time the species, which measures more than 30mm, had been recorded in London.
Up to 100 spiders were found in the vault and they may have been thriving undetected for 150 years, experts said.
The spider species require total darkness, even at night, and the sealed vaults which had remained closed for years were the ideal dwelling for them.
Some of the tombs where the spider was discovered date back to the 1830s.
Philosopher Karl Marx, poet Christina Rossetti and novelist George Eliot are buried in the cemetery.
Tony Canning, from London Wildlife Trust, said: "The discovery of this important spider population in the heart of London shows just how valuable cemeteries such as Highgate can be in providing refuges for wildlife."
The species, which preys on small insects and woodlice, is found in other parts of the UK.
Related Internet Links
The BBC is not responsible for the content of external sites.