Views sought over 'UK's highest' residential tower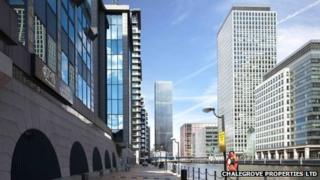 Plans for what could become the highest residential building in the UK are to go out to consultation on Monday.
Chalegrove Properties Limited wants to build a 239m (960ft), 75-storey tower comprising 864 homes on the former City Pride Pub site on the Isle of Dogs in London.
The company also wants to build 173 homes near the site on Island Point.
Planning permission for a residential tower which, also included a hotel at its base, was granted in 2009.
However, the company that submitted them, Glenkerrin, went into administration and Chalegrove bought the two sites for £43m in 2011.
The pub had been on the site since the 1950s, and featured in the London Marathon at the 15 and 18 mile marks.
Affordable homes targets
Planning documents show that Chalegrove has now redesigned the tower, removing the hotel and the footprint of the building has been reduced.
It also submitted plans for the Island Point site on Westferry Road, which include three-storey townhouses and maisonettes along with apartment buildings which would be from three to five storeys high.
Householders, companies and other interested parties will be able to view the plans and comment on them from Monday.
According to Tower Hamlets Council's core strategy which launched in 2010, just over 43,000 homes - equating to 2,885 per year - are needed by 2025.
In the areas which make up the Isle of Dogs, 2,640 homes are needed in Canary Wharf, 6,150 in Millwall and 4,190 in Cubitt Town.
Although the council could not comment on this planning application, it said the City Pride and Island Point schemes were linked through an s106 agreement, which means that the social affordable housing provision would be shared between the two sites.
It said 35% of the homes provided by the two schemes would be social affordable housing.
Standing at 235m (770ft), One Canada Square in Canary Wharf is second to the Shard in height.