Heathrow cancels flights and transport is delayed by snow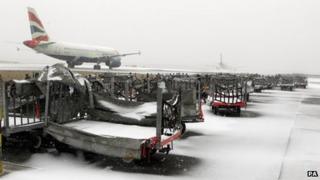 More than 400 flights were cancelled by Heathrow Airport after bosses were forced to close a runway to de-ice it.
Both runways were closed for a while so that they could be de-iced and for the snow to be cleared.
Warnings of travel disruption were issued ahead of the snow, which began falling in and around central London shortly after 08:00 GMT.
BBC meteorologist Peter Cockroft said snow would start to ease off on Saturday morning.
Some train operators were running revised services and drivers have been advised to allow extra time for journeys.
At Euston and King's Cross stations, train passengers had to wait on average an extra hour.
At Heathrow, more than 400 flights were cancelled out of 1,300.
A Heathrow spokeswoman said both runways were open and that it had no plans to cancel flights into Saturday.
She advised people to check their flight before travelling.
People whose flights had been cancelled have been advised to contact their airline.
Amber alert
After the runways were closed for de-icing, the airport extended the length of time between flights for safety reasons, primarily because there was a knock-on effect of flights being delayed at other airports.
There are also some delays and cancellations at London City Airport, where the runway was closed for de-icing for an hour in the morning.
Passengers travelling to Heathrow, London City and Gatwick airports have been advised to check the status of their flight before travelling to the airport.
Heathrow Airport has spent £36m on its Winter Resilience Programme since 2010 and now has 130 snow-clearing vehicles and equipment.
The Highways Agency issued an amber alert for snow, heavy in places, on Friday, after gritting began on sections of the M25, on Thursday.
Steve Crosthwaite, head of the agency's National Traffic Operations Centre, urged drivers to allow more time for making journeys.
He said: "During periods of severe weather we also suggest people consider whether their journey is essential."
'Ready to respond'
National Rail Enquiries reported some Eurostar journeys had been cancelled or delayed between London and Brussels due to cold weather speed restrictions.
South West Trains (SWT) said it was running a revised timetable throughout the day.
This affected routes from London to Bournemouth and Weymouth, London to Salisbury and Portsmouth and London to Reading.
East Coast train company lifted ticket restrictions for all journeys on its trains which arrive in, or depart from, King's Cross station after 10:00 GMT on Friday.
The Southeastern train firm also advised passengers to make checks before setting out, warning: "Given the weather forecast, there may be disruption on some routes through the day."
Southern railways experienced delays and some routes have been revised. It also ran a "less frequent service on some routes between London and the south coast".
Meanwhile, London Fire Brigade urged caution during the cold weather following two serious fires this week caused by householders trying to keep warm.
On Wednesday, fire crews rescued an elderly man from a serious blaze in Wembley, north London, which is believed to have been caused by a halogen heater placed too close to flammable items.
UK weather maps: click on key and tabs for extra detail
The enhanced content on this page requires Javascript and Flash Player 9
Map Key
Land
Cloud
Lakes, Rivers & Sea
Fog
Light
Heavy
Frost
Light
Heavy
Pressure Fronts
Cold
Warm
Occluded
Rain
Light
Heavy
Extreme
Snow
Light
Heavy
Temperature tab only
Temperature (°C)
More details from BBC Weather