London helicopter crash: Crane driver feels 'lucky' he was late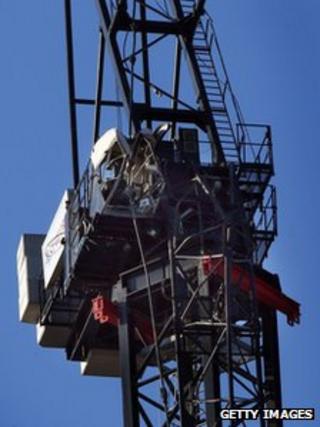 A crane operator who was late for work when a helicopter crashed into the crane he works on said he had overslept and now feels "very lucky".
Nicki Biagioni, 30, of Essex, said his two sons woke him up at 05:00 but on Wednesday they slept an hour later.
Pete Barnes, the pilot, and pedestrian Matthew Wood were killed in the crash in South London.
Up to 40 people, who were asked to leave their central London properties, spent the night away from their homes.
Police said some of the buildings were inaccessible because debris was scattered over a large area including rooftops.
'Still in shock'
Speaking about the morning of the crash Mr Biagioni said on Wednesday his young children did not wake up until an hour later, and that saved his life.
He said: "I'm very lucky. It is unbelievable, I am still in shock, I can't believe it.
"If it wasn't for my boys not waking me up that would have been it."
The pilot, 50-year-old Mr Barnes, from near Reading in Berkshire, had flown for Redhill firm Rotormotion for 15 years and has been described by colleagues as "highly skilled".
Mr Wood, 39, from Sutton, was killed as he made his way to his job at Rentokil.
A statement from the firm said: "A sad day for us all.
"Our colleague, Matt Wood, was fatally injured yesterday in the helicopter crash in Vauxhall as he walked to work."
His sister Amanda paid tribute to him, describing Mr Wood as a "big guy with a big heart" who doted on his nephew.
"I woke up this morning thinking [what happened to Matt] was a dream," she said.
Mr Barnes brother said it would have been his "instinct" to do whatever he could to minimise casualties.
Chris Barnes, 55, from Nottingham, paid tribute to his "good guy" brother, adding: "It's a matter of instinct, it's what pilots do.
"He had 25 years and 10,500 hours experience. He was very good at what he did."
An investigation is now under way into why the helicopter hit the crane on The Tower, One St George Wharf, in South Lambeth on Wednesday morning.
Twelve people were injured and five of them were taken to hospital. One person suffered a broken leg while the others had minor injuries.
Cars and two buildings caught fire after the burning wreckage from the helicopter fell into Wandsworth Road, which remains closed.
Eyewitnesses said people in the area "ran screaming" as flaming debris fell from above.
Michael Krumstets was on his way to work with a friend when he saw the helicopter "spinning out of control and [coming] directly towards us" after the collision.
People were asked to leave several buildings in the area near The Tower, including apartments in Riverside Court, Nine Elms Lane, and in St George Wharf.
Residents in a block of 99 flats in Riverside Court were among those evacuated on Wednesday morning.
Most residents were provided with alternative accommodation but two women, who are from France and Australia and did not have friends in London, said they were "left stranded" the whole night.
'Frustrated, sleepy, dirty'
One of them, a 31-year-old graphic designer who did not want to be named, said: "Last night it was getting dark and freezing and we just walked around all night.
"I am frustrated, sleepy, dirty, and I need to go to work".
They have returned to their apartments but said that many residents did not know that they could return on Wednesday evening.
The pair said no-one told them that Wandsworth and Lambeth Council had set up a shelter for those affected. Wandsworth Council said earlier that no-one sought accommodation there.
Nabila Fowles-Gutierrez, 39, who lives in Armada House in St George Wharf, did not have to leave her home but said fire alarms kept going off and no-one came forward with any clear information.
She said: "It was really quite panicky and very upsetting.
"The residents weren't really updated properly and we still haven't been properly communicated with."
A spokesman for Berkeley Group, which owns the building, said: "Following yesterday's incident, a number of buildings in the area were evacuated to ensure the safety of their residents.
"These buildings were successfully evacuated in an expeditious manner, with the chairman of the residents' association praising the manner in which the evacuation was handled."
Lambeth Councillor Lib Peck said people in the area had previously complained about helicopters.
She said: "People have raised the issue of safety.
"I mean clearly the skyline of London has changed dramatically in the last five, 10, 15 years and obviously the build-up is around the river area.
"And it is something that we will be raising in the light of this incident with the local MPs and the mayor."
Prime Minister David Cameron and London Mayor Boris Johnson both paid tribute to the "rapid and professional response" of the emergency services.
The BBC Weather Centre said observations at the time of the crash on Wednesday showed very low but not thick fog.
Mr Johnson said lights on cranes and tall buildings would now be reviewed.
Wandsworth Road and Nine Elms Lane remain closed between Vauxhall Cross and Queenstown Road and up to eight bus routes are on diversion.
The road closures led to delays and congestion in the area during rush hour.