Friend of EastEnders' Gemma McCluskie 'comforted' killer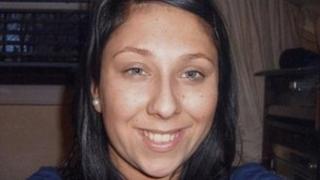 A friend of Gemma McCluskie has told a jury how she comforted the former EastEnders actress's brother, unaware he had dismembered her body.
Nicole McLaren said she "felt sorry" for Tony McCluskie as they searched for his sister in the days following her disappearance, the Old Bailey heard.
McCluskie, 35, of Pelter Street, Shoreditch, east London, denies murdering the 29-year-old and dumping her body parts in the Regent's Canal.
He has pleaded guilty to manslaughter.
Ms McLaren, a neighbour who had known Miss McCluskie since childhood, told the court she and the defendant had together visited pubs where his sister worked to try to trace her.
She said: "I was walking ahead in the street and I heard Tony say, 'where's my sister?' I cuddled him, we were holding each other."
Ms McLaren said she "felt sorry" for McCluskie when his brother Danny reacted angrily over his apparent confusion about when he last saw their sister.
Bandages on hand
"Danny said, 'When did you last see Gemma?' I rubbed Tony's leg because I felt sorry for him. I thought he was under pressure. He was nervous."
Ms McLaren told the court she noticed bandages on McCluskie's hand shortly after his sister's disappearance.
"He said he'd had a fight with two fellas outside his house about a fortnight earlier," she said.
A police search of the house McCluskie shared with his sister found entry to her bedroom was blocked by piles of clothes, leading officers to believe she was hoarding items, the court heard.
When Miss McCluskie was reported missing to police, the defendant told officers he was not initially concerned when she failed to return home because he believed she was staying with a friend.
Detectives interviewed McCluskie as a "significant witness" following the recovery of a torso from Regent's Canal.
The defendant told police he had last seen Miss McCluskie when they argued over an overflowing sink, jurors heard.
In a police interview read to the court, McCluskie said: "Gemma found the water and was really angry as mum told us to look after the house while she was in hospital.
"She said if I couldn't look after the house I should leave."
'Bad mouth'
McCluskie told police that his sister was more heated towards him during the exchange and they would sometimes have "squabbles".
Describing his sister's personality, McCluskie said: "She's bubbly, outgoing, very confident, very fiery.
"She knows how to use her words. She's got a bad mouth, just general nastiness. Not towards her friends but family's different."
McCluskie said there were "two sides" to his sister and told detectives that he felt "sick" when they asked how he felt about the discovery of a body.
Her torso was discovered on 6 March and over the next fortnight, her arms and legs were recovered separately from the water.
Her head, which had been dumped in the canal at the same time, was not found until September.
Miss McCluskie played Kerry Skinner, the niece of Ethel Skinner, in the BBC soap in 2001.
The case continues.